Designers swear by these cheap things for your home on Amazon
Add elegance and ease to your space.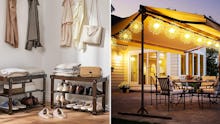 We may receive a portion of sales if you purchase a product through a link in this article.
If you find yourself scrolling through images of gorgeous homes, sighing wistfully, you've come to the right place. I'm here to tell you: A magazine-worthy home isn't a privilege limited to the wealthy. I've spoken to the experts — professional designers who know what they're talking about — and compiled a list of tips and tricks you can use to make your home your castle, without breaking the bank.
From affordable, stylish lighting to chic storage solutions, this list is full of easy updates. Every one of these inexpensive products will make your home look better than before, and they're all recommended by designers with their fingers on the pulse of what's fashionable.