This TikTok-viral brand is trying to prove that pill organizers can be both attractive & functional
No matter how often you need to take pills, Dosey probably has an organizer for you.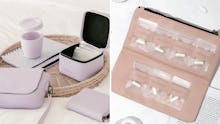 We may receive a portion of sales if you purchase a product through a link in this article.
While pill case designs once offered little in the way of frills or thrills, there seems to be a lot more attention to aesthetics these days — a welcome improvement for anyone who needs to bring medications or vitamins on the go. But one way that many still fall short is the fixed, one-size-fits-all design. Dosey is a brand that's set out to improve on this, with a chic line of customizable pill organizers that have all the good looks of a designer wallet. Back in 2022, the Aussie brand's 7-day pill purse went viral on TikTok, with a video that's downright titillating for anyone who fantasizes about being more organized. Since then, the product line has expanded, and it's now available in the U.S.
With a look that's more akin to a nice wallet or clutch, most of Dosey's organizers feature pebble grain vegan leather and come with small zippered storage pouches to store your pills. The pouches are all removable, so you can pack just what you need. And stickers let you customize the kit, depending on whether you need to sort by days of the week, a.m. and p.m., or dose number. And, importantly, the organizers are designed to keep pills protected from sunlight and moisture.
It's worth noting that the zippered pouch design likely makes the product line less accessible for some people — particularly, those with limited hand mobility. In the future, it would be nice to see Dosey find a way to put its stylish, flexible spin on the more user-friendly flip-top design of traditional plastic cases.
If you want a closer look, these are some of the most clever (and luxe-looking) pill organizers from the brand (including its viral 7-Day Pill Purse).
The TikTok-viral 7-day pill purse with extra storage
The 7-Day Pill Purse has a design that's simple and clean — you'll find slots for every day of the week, plus a pocket for other small essentials. And each purse includes seven zippered pill pouches. With a design that looks indistinguishable from a minimalist clutch, this is the Dosey organizer that first took TikTok by storm, leading one user to comment that they have "never bought something from [TikTok] so fast."
Available colors: black, dusty pink
The compact wellness wallet that holds a week's worth of pills
The Wellness Wallet nixes the extra storage pocket for a more compact design that easily fits inside a purse or backpack — all while still offering storage for seven days worth of pills. This zip-around wallet also comes in a wider selection of colors, whether you prefer cheerful pastels or classic neutrals.
Available colors: latte, sage, dusty pink, lilac, black
The customizable clutch that holds 14 pill pouches
An expanded take on the 7-Day Pill Purse, this Dosey organizer has slots for 14 pouches, which means you can customize it to work for two weeks of pills, or one week of morning and evening doses. And, like the 7-Day version, it has an extra pocket where you can store small items — for instance, additional medications that you don't take on a regular schedule.
Available colors: black, latte
The mini flask that ensures you always have a sip of water for your pills
Made of stainless steel with a soft, matte finish, Dosey's travel flask is a clever way to keep just enough water on hand to wash down your pills throughout the day. It holds 5 ounces of liquid, which makes for a lot less bulk compared to a standard 16-ounce water bottle. And it's small enough to fit in most bags.
Available colors: sage, lilac
The zip-around case that has you covered all month long
If you're a serious planner (or you aspire to be), the Monthly Pill Kit was made for you. With the brand's signature vegan leather exterior and a soft velvet inner lining, it comes equipped with 28 pill pouches so you only need to load it up once a month, and you're good to go.
Available colors: dusty pink, sage, black, lilac, latte