40 easy ways to dramatically upgrade your home for less than $30
Home upgrades don't need to cost a ton.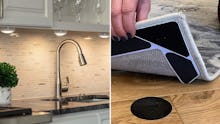 We may receive a portion of sales if you purchase a product through a link in this article.
While upgrading your home may sound expensive, in reality, all it takes is a little creativity. Sometimes the smallest changes — like organizing the mess of charging cables on the nightstand — are all it takes to drastically improve how a space looks and feels. (And don't even get me started on hiding all that visible clutter poking out from underneath the bed.)
But if you don't have the time to come up with creative little ways to upgrade your space, that's not a problem, as I've put together this list of 40 things under $30 that can dramatically upgrade your home. From colorful cable ties to microfiber bed skirts, each item you'll find below can work wonders in making your space feel clean, organized, and up-to-date.