40 expensive mistakes you don't realize you're making during the winter
These solutions will save you time, energy and money.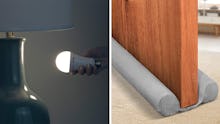 We may receive a portion of sales if you purchase a product through a link in this article.
Winter is a tough season to get through. The cold, snow, and ice make everything from walking your dog to driving your car a little bit more difficult. But there are tons solutions to the woes of winter, and you'll find many of them in this list — from handy tools to hydrating skincare.
There are plenty of storms in the winter that can knock out your power, and these rechargeable backup light bulbs can help you be prepared so you're not caught in the dark. Also, you might think that sunscreen is only necessary during the warm sunny days of summer, but it's just as important to keep your skin protected during the winter — and this SPF 50 moisturizer can help. Winter can also be a time of heavy lip balm use, and this handy keychain makes it easy to always have lip balm at hand.
Whether you want an easy way to protect your vehicles from the weather or an easier way to prepare dinner for the week without facing the winter elements, this list is full of solutions. These products will save you time, energy, and of course, money.