45 expensive mistakes you're making inside your home
Money-saving solutions can be found here.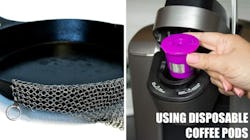 We may receive a portion of sales if you purchase a product through a link in this article.
One truth I've discovered about adulting is that it can be expensive — and not an "Oh, I'm going out with my friends for the fourth night this week," expensive, although that's technically an option — but a "Gee, why are coffee pods so pricey and how do I repair these floor scuffs, and why does my dryer smell like burnt dust, and I think I need to start wearing sunscreen every day" kind of expensive. Little things can start adding up until they no longer feel little.
However, sometimes all that it takes to curb this spending is a bit of foresight — or course correction, if this list doesn't quite reach you in time to call it foresight. The products I'm sharing today can help you stop making expensive mistakes in and out of your home. With most of these items, all that's required is a quick and simple purchase now, to save you time, effort, and money down the road. If you're looking for the CliffsNotes version, just know that planning ahead, finding ways to use up products instead of tossing them, and never sacrificing safety are almost always good ideas. If you're looking for more tangible suggestions you can incorporate around your home, then get to scrolling.