Experts say these things under $35 make your home seem so much more expensive
Bougie decor on a budget.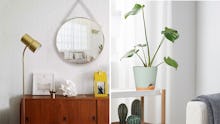 We may receive a portion of sales if you purchase a product through a link in this article.
You don't have to spend a ton of money to make your home seem expensive. Sometimes the smallest details — like a new rug or set of bath towels — can make a huge impact. But if you aren't sure where to start? Not a problem, as I've reached out to a handful of experts who were more than happy to share their favorite tips and tricks when it comes to making any space feel luxurious.
And since saving money is always a good idea, I've also made sure that each item you'll find below costs $35 or less. That means you can scoop up multiple items without having to break the bank — and with so much good advice coming all these qualified experts, don't be surprised if you're tempted to grab more than a few products. So what are you waiting for? That barren hardwood floor isn't going to put a rug on itself, you know.