Here's how to reap the skin benefits of retinol, without the harsh side effects
We only recommend products we love and that we think you will, too. We may receive a portion of sales from products purchased from this article, which was written by our Commerce team.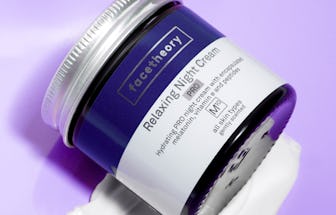 Facetheory
If you've done any research on skin care, you've probably heard about retinol. A favorite of the skin-care industry for years, it's true that retinol produces countless benefits for the skin. But retinol isn't for everyone. For those with sensitive skin, it can cause irritation, flaking, and peeling; it can cause increased sun sensitivity; and most experts agree that it's not suitable for use during pregnancy. Thankfully, there are some excellent alternatives out there, and the U.K.-based skin-care brand Facetheory makes several natural products that can deliver noticeable results without retinol's harsh side effects.
As a reminder, retinol is a derivative of vitamin A that can penetrate deep into the skin to trigger cellular turnover and prevent the breakdown of collagen, which in turn promotes several skin benefits, including firming, brightening, and minimizing the appearance of hyperpigmentation and unwanted scarring. It's popularly used as an effective acne treatment, too. But for some, the aforementioned side effects are insurmountable. So, there are good reasons to consider alternative products.
Shop Facetheory's Retinol Alternatives
Research indicates that while natural options may not precisely mimic retinol's potency, they can still produce noticeable results — which is where Facetheory comes in. The brand offers affordable, cruelty-free, sustainably packaged skin care made from plant-based, science-backed ingredients, without unnecessary fillers. While their products target a spate of skin types and concerns, here are three easy-to-use products — gentle enough even for sensitive skin — that can be used in place of retinol to brighten, aid collagen production, minimize breakouts, and more.
The Day Cream
Facetheory's Bakuluronic Moisturiser M1 contains 2% bakuchiol, an antioxidant naturally derived from the seeds and leaves of the babchi tree. Like retinol, bakuchiol works to stimulate cell turnover and collagen production, and can treat breakouts — but without any harsh side effects. Additionally, Facetheory's formula contains hyaluronic acid to help the skin retain moisture (along with moisturizing argan oil and shea butter), plus stabilized vitamin C, a powerful antioxidant that can minimize unwanted dark spots and brighten the complexion overall. As an added benefit, this lightweight daily moisturizer contains rice starch to naturally minimize the appearance of pores and control shine.
One reviewer wrote: "Could not be happier. I have oily and spot prone skin so heavy moisturisers have never suited my skin. I've either been pregnant or breastfeeding for the past 3 years retinol, botox [...] are not an option. and since turning 30 last year I've felt for a while that I really needed to start looking after my skin. This cream soaks into my skin fast without leaving it oily. And within days my skin was glowing, smooth, evenly toned I could go on. Honestly it has exceeded all my expectations."
Noteworthy Ingredients: Bakuchiol, Vitamin C, Hyaluronic Acid | Recommended For: Oily & Combination Skin | Free From: Parabens, Silicones, PEGs, SLS, SLES, Mineral Oils
The Night Cream
The major retinol-replacing ingredient in Facetheory's Relaxing Night Cream is peptides (specifically in the form of ChroNOline™). Comprised of proteins that occur naturally in the skin, these peptides work to boost skin elasticity and promote collagen production, similarly to retinol, which can lead to brighter, firmer skin and a stronger skin barrier. Additionally, the night cream is formulated with encapsulated melatonin, which can help block free radicals, heal oxidative damage to the skin, and quell inflammation; along with vitamin E and glycerin to help skin retain moisture. Choose either Lavender (infused with soothing lavender essential oil) or Unscented.
One reviewer wrote: "This is a beautiful and rich cream perfect for the evening. I apply the rosehip oil over this after 10 minutes, and I have up with glowing skin."
Noteworthy Ingredients: Peptides, Encapsulated Melatonin, Vitamin E | Recommended For: Most Skin Types | Free From: Parabens, Silicones, PEGs, SLS, SLES, Mineral Oils
The All-Purpose Face Oil
Made of just three ingredients — rosehip seed oil, rosehip fruit extract, and vitamin E — Facetheory's organic rosehip oil is cold-pressed and sourced ethically from Bulgaria. Like retinol, rosehip oil is naturally packed with vitamin A, which promotes cellular turnover and collagen production. It's also high in fatty acids, like linoleic acid and linolenic acid, which help your skin retain moisture and boost elasticity. Rosehip oil also contains antioxidants, like brightening vitamin C, while vitamin E aids moisture retention (the formula includes additional vitamin E, too). To use, warm two drops between your palms and smooth onto your face, neck, and body, if you wish. This can be used alone, under a moisturizer for a boost of hydration, and even on the ends of your hair for moisture and shine.
One reviewer wrote: "I love this oil! My recent purchase of another bottle was gifted to my friend who had stayed overnight and tried some on her face before bed, she loved it too. Out of all my Facetheory products this is my favourite, my skin feels very soft when I wake up in the morning after a few drops at night. I have started using it in the morning too after cleansing and love the whole process of warming it between the palms of hands and massaging it into my face and neck. It has a very rosehippy/earthy smell which I love too. Would highly recommend- it's very reasonably priced, good quality and Facetheory deliver very quickly. 99% organic Bulgarian rosehip oil , you are not going to find it at a better price unless you take a trip to Bulgaria!"
Noteworthy Ingredients: Cold-Pressed Rosehip Oil, Vitamin E | Recommended For: Most Skin Types | Free From: Parabens, Silicones, PEGs, SLS, SLES, Mineral Oils
Is Facetheory Right For You?
If you're looking for plant-based products that can produce retinol-like results, Facetheory's formulas may be just what you need. But if you have another skin-care concern, the brand offers plenty of other cruelty-free, vegan, sustainably made products that you can easily shop online according to your skin concern or the primary active ingredient. They even have a rewards program, which allows you to earn points that you can use toward future purchases. Natural, effective, and affordable skin care? Just might be worth a try.
This article was originally published on