Fitness trainers call these the cheapest, most effective things for home workouts
Trick out your home gym setup for less.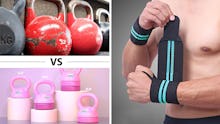 We may receive a portion of sales if you purchase a product through a link in this article.
Setting up a home gym can be a bit overwhelming in the beginning. It's important to not cramp your space with fancy (and expensive) gadgets that you'll never actually end up using, but you also want to make sure you have things that will really help you achieve your fitness goals.
That's why I reached out to fitness experts to find out what affordable and effective products they love for home workouts. These certified trainers and performance coaches have provided some top-notch suggestions that'll make your very own living room feel like a premium exercise studio without spending thousands and thousands of dollars.
For instance, pick up a 23-piece workout set to grab a lot of equipment in one swoop or pick and choose between things that you feel like you truly need, like these non-slip booty bands or some massage balls. You'll be working up a sweat in no time.
This article was originally published on