Fitness trainers swear by these cheap fitness products on Amazon
Get your workout bang for less buck.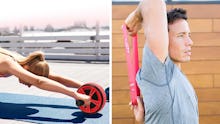 We may receive a portion of sales if you purchase a product through a link in this article.
When you're trying to keep up with exercise, it's often all about routine. But maintaining a go-to-the-gym practice can be challenging when work, family, hobbies, traffic, and other obstacles start to encroach on the time you have to devote. Fortunately, there are loads of budget-friendly workout tools on Amazon — and the items on this list are all trainer-approved. Because with the right equipment on hand, you can turn a 10-minute break or an evening walk into a workout to rival your gym visits.
There's no need to dedicate a room of the house to this effort or drop a lot of your hard-earned dough on it. If you know what works, you can do this on the cheap and facilitate workouts that are effective, quick, and right there next to your desk or TV. So get your clicking finger stretched and prepped because fitness trainers swear by this collection of cheap fitness products, and they're all on Amazon.