Getting in shape would be so much easier if you tried any of these clever things
You don't have to work hard to workout.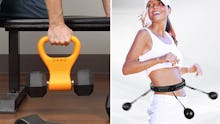 We may receive a portion of sales if you purchase a product through a link in this article.
I know jumping into the workout world can be an intimidating thing, but there are ways to make it easier on yourself. Knowing what tools to use and how to use them is the first step to making exercise less dreadful and more, believe it or not, fun.
These 30 clever things will have you working out like a pro in no time. And best of all, no trainer or extremely expensive equipment is necessary. Just head over to Amazon and you'll be halfway there.