Getting your dog to behave would be so much easier if you tried any of these things
Professionals share their tips and tricks.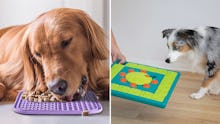 We may receive a portion of sales if you purchase a product through a link in this article.
While some dog breeds are easy to train, others require a little more effort. For example, if your dog likes to chew up your furniture, or if they get nervous whenever you leave the house, you might have to get creative in order to curb those unwanted behaviors.
But if you don't have the time? Not a problem, as I've reached out to a handful of experts who shared their favorite tips on discouraging bad behavior in dogs. From keeping them busy with puzzle toys to giving them stuffed animals to snuggle with, there's a piece of advice in here for even the naughtiest pups.