This gorgeous made-to-order jewelry is shockingly affordable — & trust me, it makes the most meaningful gift
A symbol of your affection.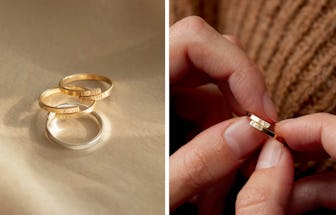 GLDN
We may receive a portion of sales if you purchase a product through a link in this article.
Finding just the right piece of jewelry is a formidable task. On top of ensuring it fits, you want a piece that perfectly captures the personality of the wearer. This is why GLDN's customized approach to jewelry is so genius. The women-owned jewelry brand makes made-to-order pieces infused with personalized details you can choose from, whether that's a meaningful date, name, or emblem. In the case of the GLDN bracelet I recently received from my partner, it was the hand-sketched symbol we both have tattooed on our arms. I was blown away when I opened the box to find something at once so meaningful and so me.
How it works
A lot of companies claim to be artisanal, but GLDN genuinely is. Working out of a Washington-based studio, GLDN designers make high-quality pieces by hand specifically for you.
The process starts with selecting the item of jewelry you wish to customize, whether that's a bar bracelet, delicate locket, or set of stackable rings (and that's just to name a few of the exquisite options available). From there, you choose a size and enter your personalization — maybe it's an illustration, simple inscription, or a few dates or coordinates laden with meaning. There's even a special bridal collection.
You also get to personally select font, alignment, material, and more. Before checkout, you get to preview the item to make sure it's just right. Then the artist gets to work. My partner reported that he was even contacted mid-project to make sure he liked the work in progress — the designer was that dedicated to getting it just right.
How much does it cost
Bespoke jewelry like this seems like it would cost an arm and a leg, but GLDN is committed to offering gorgeous pieces at accessible prices. It has many offerings under $60 — like the best-selling personalized disc necklace and dainty birth flower necklace — and even more for less than $100. To make it easy, you can Shop by Budget to find a piece that falls within your spending limit. Plus, there's free shipping on orders over $95.
More about GLDN
It's clear that GLDN cares about each and every detail and that includes the thoughtful packaging. Inside the luxe-looking box you'll find a hand-written note, a care card, and polishing cloth. For the Basquiat bar bracelet I received, there was even a little tool to help with putting on the bracelet yourself (usually a near-impossible task).
The company also is focused on sustainability; it uses 90% recycled metals, and since most items are made-to-order, there is almost zero waste. What's more, 95% of its materials are domestically sourced from ethically-certified suppliers. There is also an admirable giving model, with 10% of profits donated to organizations that align with GLDN's values of liberation, education, and community building.
Customer reviews
After completely falling in love with my bracelet, I'm a GLDN convert, and it's clear that I'm not the only one. Here are just a few of the gushing reviews from verified buyers:
"I ordered a micro signet ring, and the packaging blew me away! It was so cute, simple, pretty, and very clearly put together by *someone*. It felt like someone really put care into it, and it even came with a handwritten note! The ring is great too! Perfect size, and I love the slim profile of the ring. Would work great in a stack." - Ronni L.
"I purchased two matching bracelets, one with my mom's birthday and one with mine, as a gift for her birthday. They turned out beautifully, way more than I expected" - Anna D.
"I couldn't decide on which design to go with and ended up choosing the lily because it's my favorite flower. I was so taken back by how beautiful the piece was. Delicate but also durable. I wear it everyday." - Sarah R.
"I was so pleased with this purchase! It's my new staple, wear-it-everyday piece. I love that you can personalize it and always have that special reminder with you : ) Love the quality and ethos of this brand so much!! Will continue to buy again and again!" - Rachel W.
"I got this for my friend, who is getting married. It's absolutely stunning and such a nice, sweet gift for someone. The team at GLDN was also incredibly kind and friendly, especially considering I had such a tight timeline before the wedding. Thank you again!" - Allie