Here's why a pergola should be your next weekend project
In less than four hours, you could add serious value to your home.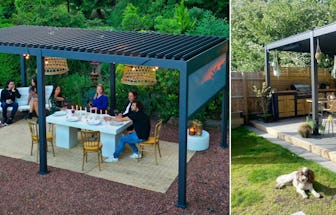 We may receive a portion of sales if you purchase a product through a link in this article.
According to a survey, Americans spend 92% of their life inside. So, if you have a backyard, it might be safe to assume, you're not getting as much use out of it as you could be. Enter: This four-season pergola that can turn your outdoor space into an oasis where you can entertain guests or just escape the daily grind.
The Hanso Home pergola promises to be the home upgrade that makes your backyard useable in rain or shine, on hot summer afternoons or cool autumn evenings. It's quick and easy to set up (no contractors required), yet can withstand hurricane-force winds.
What is a Pergola?
A pergola is an outdoor garden structure that is generally used to provide a shaded walkway or sitting area. In its simplest form, a pergola typically consists of vertical posts which support cross beams that provide shade. The Hanso pergola, however, puts a modern spin on this ancient Roman structure.
What makes the Hanso pergola so unique?
A first glance, Hanso Home's pergola looks simple yet elegant, but the award-winning innovation is in the details.
Next level louvers
Unlike the pergolas of ancient Rome, Hanso's pergola has adjustable louvers (aka the slats that make up the ceiling) so you can control your exposure to sunlight. And, if rain clouds roll in, you can shut the louvers entirely and the built-in drainage will help keep you dry.
Cozy winter escape
Unless you live in a warmer climate, chances are your outdoor time plummets in the winter months. But thanks to Hans's optional electric heaters, you can continue to eat dinner al fresco even in February.
Screened in sanctuary
Another way to level up your pergola is with retractable sunshades (sold separately). The pull-down screens provide extra shade, block light wind, and protect you from rain. They essentially turn your pergola into a screened-in porch.
As easy as IKEA
Hanso promises a straightforward assembly experience. No contractors or building experience is required. According to the company, you'll just need one friend and two to four hours to complete the project.
Built like a Fortress
Made of 6005 T5 alloy aluminum, this rust-resistant pergola is designed to last for 30 years and can handle extreme winds and snow loads.
Attainable luxury
Hanso Home was founded on the idea of creating an innovative and high-quality pergola at an affordable price point. By going direct-to-consumer, it cuts out the middlemen to reduce the overall cost for the consumer without compromising on style or quality.
A savvy-investment
Sprucing up your outdoor space with a pergola isn't just going to make your weekend BBQs more fun or your Monday nights more relaxing — it might actually increase your home's value or curb appeal. Especially in warmer climates, such an addition could be a pivotal selling point.
What customers have to say:
The Hanso site is full of reviews with customer-provided eye-candy shots of pergolas in every kind of patio and yard. It has earned a 4.8-star overall rating from verified purchasers on the brand's site, including the ones below:
"I recently purchased and installed your pergola kit with clear instructions and support from my friend. The materials were very high grade, especially the hardware and the screws. I like that they are rust proof because this houes is coastal. I was able to assemble it by myself in a short time and it has proven to be very sturdy in all kinds of weather." -Cressida G.
"I've waited a while to review this product because I wanted to be honest. I've had this pergola for almost two years. It was super easy to put together and it's wonderful! I've also never owned one of these before so I wasn't sure what to expect. It was a little difficult to assemble the very top but my husband figured it out. We haven't bolted ours down yet, but we have a pretty big storm last night, with winds around 50-60 mph." -Björn
"It's been a fun project and we've enjoyed having it. It has exceeded our expectations. We're glad we went with this one instead of something more flimsy." -Richard S.