These buzzy CBD drinks can help you relax, without the alcohol — & they're 25% off
Refreshing summer cocktails, minus the hangover.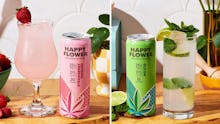 We may receive a portion of sales if you purchase a product through a link in this article.
Summer can mean a lot of things: cold drinks, hanging out with friends, and finding some time to relax. And if you're avoiding alcohol or excess sugar, Happy Flower CBD cocktails are summer 2023's answer to those boozy, sugary, hangover-inducing drinks. There's no alcohol, 25 milligrams of CBD per can, and only 2 grams of added sugar. Whether you're looking for a CBD twist on a classic cocktail or a fun, fruity option, there's something for every taste.
What's in it?
While Happy Flower's cocktails don't contain alcohol, they do have two main ingredients aimed at elevating your mood. First is L-theanine, which is a natural chemical found in green tea, that is believed to help reduce stress and anxiety levels. Next is broad-spectrum hemp extract from the cannabis plant which can bring a calming effect. Plus, the flavors come from natural ingredients.
Will it get me high?
To put it bluntly — no. Drinking a can of Happy Flower won't get you high, since it contains CBD, not THC. CBD and THC are both cannabinoids that are found in cannabis, but THC is the one that is much more associated with intoxication. A can of Happy Flower contains less than 0.001% THC, which technically makes it THC-free.
Of course, everyone reacts to CBD products differently and it may cause drowsiness and other potential side effects, so the brand recommends seeing how one serving affects you before drinking more.
And if you are nursing, take medications, or have other health concerns, it's always a good idea to check in with your doctor. If you're pregnant, these drinks are not recommended.
From now until August 1, get 25% off with code PRELAUNCH25.
Shop Happy Flower