Making friends as an adult is hard. Joining an adult sports league can help.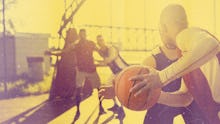 bbernard/Shutterstock
Back in 2010, two things lined up perfectly for Michelle, 30: she saw the movie Whip It, about an all-women roller derby team, and soon afterwards, learned there was an open skate event in her home of Madison, Wisconsin where women could learn to roller derby. Inspired to participate, she joined a local rec team; eventually, her group, Maiden Milwaukee, ended up winning the league championship. Like many other people in adult sports leagues, Michelle found herself reaping the benefits, from the focus on teamwork to the physical activity to the creation of strong, lifelong friendships.
"The entire sport of roller derby (or any sport, really) is based on women (or people) from all walks of life working together and getting back up after being knocked down," Michelle tells Mic. "The physical action of carrying out this embedded metaphor is truly empowering."
Kelaine Conochan, a spokesperson for the adult sports league community ZogSports, adds that there are countless perks to joining an adult sports team. "Playing in a league makes it easy to play a sport you enjoy, form connections with like-minded people, and get some healthy competition into your week," she tells Mic. Since its founding in 2002, ZogSports has grown every single year, says Conochan, due to both increased registrations in already-established leagues and the company's expansion into new cities across the country.
Clearly, more and more people are discovering the benefits of sports programs, which range from softball teams to kickball leagues and feature members of all skill levels and backgrounds. If you're curious about joining a team, let Conochan and more experts explain why adult sports leagues can be so good for you — physically and mentally.