How (and why) to pack light for a road trip — even if you have space for way more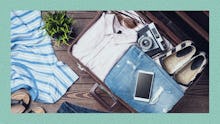 Atstock Productions/Shutterstock
As someone who's packed for several long road trips — and in a MINI Cooper, no less — I've learned the hard way that the more items you take along, the harder the journey will be. Sure, when you have extra space in the car, it's easy to just add things in without giving it too much thought. But, once you head out and realize you can't see out the windows because of all the bags stacked in the backseat or quickly grow tired of lugging heavy items into each new Airbnb, you'll wish you had figured out how to pack light for the road trip. Trust me.
And not just because of the physical annoyances. "Taking care to pack light for a road trip can be beneficial in many ways — it can save you stress and make the journey more comfortable and enjoyable," explains Julie Hall, a AAA spokesperson. "Also, a lighter vehicle will get better fuel efficiency, helping to save money on gas."
With summer around the corner, you might be thinking that a road trip sounds like a great plan, and you wouldn't be the only one; over the upcoming Memorial Day weekend, nearly 43 million Americans will embark on a holiday getaway via car, train, or plane, according to AAA. That's a lot of people, but it doesn't have to be a lot of luggage, too. Learn to master the art of packing light through the below tips from Hall and other travel experts.