This one behavior can help you resist cheating on your partner, according to science
It's actually quite simple.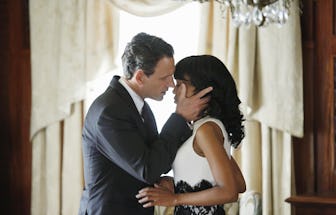 Shondaland/Abc Studios/Kobal/Shutterstock
This just in: Being an empathetic partner can reduce the temptation to cheat. Yup, that's the not-so-surprising result from a new study conducted by a team of psychologists from Reichman University in Israel and the University of Rochester in upstate New York.
The study, which was published in the Journal of Sex Research, consisted of three randomized experiments with a total of 408 participants (213 women and 195 men, ranging in age 20 to 47) who were in monogamous, heterosexual relationships of at least four months.
Participants were randomly chosen to play the part of the "perspective-taking" partner — so, consciously considering how behaviors like cheating would affect their absent partner — and then looked at, encountered, or thought about "attractive strangers." The psychologists, meanwhile, observed and took note of how the participants communicated this new attraction, as well as their level of commitment for their current partners. In the end, researchers concluded that this mindful approach helped to remind potential cheaters what they had to lose if they chose infidelity. This exercise in empathy can also seemingly help to strengthen partners' bonds, which in turn, helps to improve their relationship.
"Perspective taking doesn't prevent you from cheating, but it lessens the desire to do so," study co-author Harry Reis, a psychology professor at the University of Rochester, said in a news release.
Lead author Gurit Birnbaum, a professor of psychology at Reichman University in Israel, noted that "Active consideration of how romantic partners may be affected by these situations … encourages people to control their responses to attractive alternative partners and derogate their attractiveness."
Okay so, this finding isn't groundbreaking. Past studies have found that empathy is the key to building a deeper, more fulfilling interpersonal relationship — not just in a romantic sense. In general, attempting to see how others view a particular scenario is another way to humanize the person at the other end of the conversation. It's never just one-sided: A dynamic that sticks, that makes the bad days worth it, starts and ends with understanding — or at least trying to understand — where your friend, partner, or family member is coming from, despite any differences. And vice versa.
While this study is as straightforward and predictable as they come, the following concluding statement by Reis is one to remember, put to practice, and maybe even tack onto your vision board.
"People invariably feel better understood, and that makes it easier to resolve disagreements, to be appropriately but not intrusively helpful, and to share joys and accomplishments," Reis says. "It's one of those skills that can help people see the 'us' — rather than the 'me and you' — in a relationship."