35 hygiene mistakes you don't realize you're making around your home
These quick fixes will help make your home a healthier one.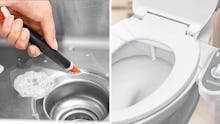 We may receive a portion of sales if you purchase a product through a link in this article.
Unless you're someone who is inherently a neat person (if so…I'm jealous), the best methods for keeping your space clean and tidy aren't always intuitive. Even when you have the best of intentions, it's easy to make mistakes around the home. Just like it's important to know what to do, it's just as important to know what not to do, which is where this list comes in handy.
Consider these 35 hygiene-related mistakes you could be making around the home — and their simple solutions. Some of these may require a quick purchase, and some you can complete with what you have at home, but either way, plan to give yourself some time this weekend to make a few quick fixes that your future self will appreciate.