If you aren't doing any of these clever things at home, you're wasting money
These products will save you lots of time and money.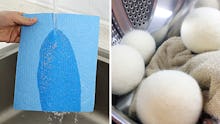 We may receive a portion of sales if you purchase a product through a link in this article.
Maintaining a home is not cheap by any means. Monthly bills and shopping trips for necessities add up quickly and without much notice. While we can't do much about the cost of your rent or mortgage, I have put together a bunch of tips and tricks to help combat those kind of wasteful habits and lower some costs around the home. You may not think about it, but something as simple as blasting the air conditioning or throwing away leftovers are major ways you're wasting money.
Don't worry, you don't have to completely change your day-to-day just to save a few bucks. Thanks to Amazon, all you have to do is place an order for some surprising lifesavers like this set of tiny spatulas that allow you to enjoy every last drop of your favorite jam so it doesn't go to waste. Or you may want your first purchase to be this budget planner so you can use its detailed pages to track just how much your saving on cable by switching over to the Amazon Fire TV stick or on take out food by adding these organizer bins to your refrigerator.
Whichever of these genius products you decide to bring into your home, prepare to be amazed by how easy it is to spend less and save more.