If your cat is an asshole, you'll wish you got these clever things sooner
Ways to keep your cat active and happy — so you'll be happier, too.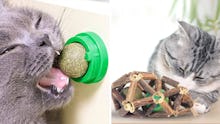 We may receive a portion of sales if you purchase a product through a link in this article.
We love our kitties, but there's no denying that their unpredictable behavior keeps us on our toes. Luckily, there are plenty of behavior-boosting cat products that can divert our feline friends' more mischievous tendencies.
Cats have a natural instinct to chew, but that doesn't mean your furniture has to suffer. Distract your cat with these edible chewing balls or this retractable lure toy, so they're all tired out before they can chomp on your couch. The same goes for scratching — provide your kitty with their own sisal mat to dig their claws into, and they'll leave your carpet alone.
Investing in an interactive toy will allow your cat to keep itself entertained (and give them a chance to work out the zoomies). This feather toy rolls around on its own, while this motion-activated laser toy encourages a game of chase. These clever pet products will keep your cat active, mentally stimulated, and happy — you'll be happier, too.