If you're fascinated by weird sh*t, check out these 40 bizarre products
Electrified fly swatters, a dinosaur-shaped taco stand — it's time to get weird.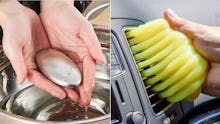 We may receive a portion of sales if you purchase a product through a link in this article.
Being "normal" has its time and place, but in my opinion? It can be a little overrated. I'm more fascinated by weird sh*t, like true crime documentaries that are almost too strange to be true, or all the odd products you can find when shopping online. Luckily for you, I've blown through all the documentaries on my watch list; that's why I decided to put together this list of bizarre products you can find on Amazon.
I know what you're thinking: "The stuff in this list can't be that weird, can it?" So if you need a little proof before scrolling down, I'd like to direct your attention to the squirrel feeder shaped like a horse head. Not only is it a bizarre item in its own right, but squirrels will have to stand on their hind legs in order to reach the food inside, making it look like they're actually wearing the head. I've also made sure to include electrified fly swatters, a taco stand shaped like a dinosaur, as well as a variety of other weird-as-sh*t items.
Is your interest piqued? It should be — because all of these bizarre products are definitely at least worth a look. Keep scrolling for more.