If you're on a budget but want to give good gifts, check out these 65 things
From a change-counting piggy bank to a portable campfire, these gifts are pretty cool.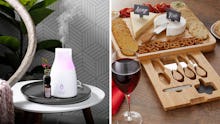 We may receive a portion of sales if you purchase a product through a link in this article.
Gift-giving can be tricky. There are the people who are completely inscrutable — you never have any idea what they want or even need. Then there are the people who will only ever admit to wanting money, and no matter how much you try to reconcile yourself to the idea, you still feel like it's a cop-out. Then there are the people you want to spend enough money on, but not too much. Fear not: This list of great gifts you can get on a shoestring is here to save the day.
There's something for literally everyone on this list. Shopping for a kid? Get them this piggy bank that counts up their change, so they'll know exactly how far along they are on their path to world domination. Longtime friend? How about a photo album customized with some pictures of the two of you? Give grandma this moisturizing hand repair kit and some extra hand-holding time, and wrap up this Chia Pet of The Child for the Star Wars fan in your life. Give your favorite camper this portable campfire and give any gourmand this cheese board set.
For the person who's impossible to satisfy? This portable charger is a foolproof gift, and I can personally attest to the fact that you can never have too many of them. You're welcome. Now check out more amazing, cost-effective gifts.