I'm a shopping researcher & here are the coolest things under $30 trending on Amazon now
Products that will make your life easier, cooler — or just a little more fun.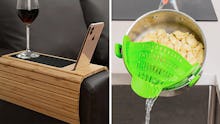 We may receive a portion of sales if you purchase a product through a link in this article.
I know that trends come and go, but let's not forget that some come for very good reason. In fact, there are a lot of really cool, trending products that I look at every day as a shopping researching, I've put together a list of the best of the best cheap items that Amazon has right now.
The Amazon ratings for this stuff say all you need to know. Some, like this trunk organizer, having over 46,000 five-star reviews, so you know it's a smart choice for your car. There are also deeply beloved, highly-rated inventions for your kids (like this ring toss game that you'll probably end up loving also), your office (like this reusable notebook that can transfer notes to your phone), and even your weekly chores (like these reusable laundry balls that quicken drying time)
Every product has at least four stars and will make your life easier, funner, or just cooler in some way. Don't believe me? Just scroll.