60 inexpensive things that'll instantly make your home look better
No major renovations needed for major impact.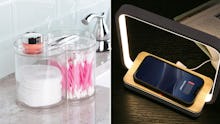 We may receive a portion of sales if you purchase a product through a link in this article.
You'd never guess it can be this easy — and inexpensive — to make your home look better. There are magnetic accents that elevate your garage door, rotating organizers to keep your countertops clutter-free, and cleaners that make sure your wood floors, stainless steel appliances, upholstered furniture look better than new.
No matter if you're looking to organize, declutter, decorate, or accent, these 60 inexpensive things will instantly impress and make your home look better.