How to turn on Instagram's new Quiet Mode and get some peace
The feature will silence notifications during certain time frames.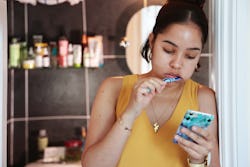 Peter Cade/Photodisc/Getty Images
The infinite scrolling, mindless likes, and urgency to reply to every single DM as they come: It's an everyday Instagram struggle so many of us deal with, and even accept as normalcy. Enter: Instagram "quiet mode," which is available for users in the U.S., United Kingdom, Ireland, Canada, Australia, and New Zealand starting today.
In an effort to promote much-needed mental health breaks, Meta (Instagram's parent company) is rolling out a new feature that allows Instagram users to turn off DM notifications, so you're not immediately alerted to new messages. You can toggle quiet mode on any time or set a regular schedule from the notifications tab in your profile settings. When it's on, anyone who messages you will get an automatic response letting them know you're in quiet mode and thus haven't been notified. (They'll also be prompted to turn on quiet mode themselves — peer pressure for good!) The new feature also lets you set a status update on your profile — reminiscent of an AIM away message, as any 90s kid well knows — so followers know when you're offline and unavailable.
But this isn't the only update Instagram has up its metaphorical sleeve. The company is also expanding on the existing feature that allows you to hide certain words — whether they're triggering or just irrelevant to you — from your comments and DMs. Now, you can also use that filter to cover recommended posts across Reels, Search, and Explore. And if you happen across content you'd rather not see again, you can also click "Not Interested" to keep similar posts out of your feed moving forward. Want to give it a shot? Check out the Hidden Words section in Privacy settings.
In its Jan. 19 announcement about quiet mode, Meta also acknowledged some new settings unique to teens and their parents. In terms of quiet mode specifically, the app will prompt teens to turn it on after they've spent "a specific amount of time on Instagram late at night," though it's unclear how much time qualifies as "too much" and what hours qualify as "late at night." Meta also updated its parental supervision tools, allowing parents access to their teen's privacy and account settings whenever they've made changes.
These new features are a step in the right direction, particularly considering the fact that Meta has come under fire repeatedly for its alleged role in the decline of young people's mental health. A 2020 report published in the International Journal of Environmental Research and Public Health noted how social media contributes to FOMO — which may sound harmless, but research has found the fear of missing out on valuable information or the opportunity to gain popularity is closely related to symptoms of behavioral addiction, as well as increased stress and anxiety in users.
I, a 31-year-old millennial, can relate to this sense of urgency when it comes to being "on," though that may just stem from my lifelong anxiety and type A personality. The same can be said about the daily battle I have with my inbox to ensure it stays at zero. (Hi, I'm also the problem, it's me.) But it certainly seems reasonable, at minimum, that social media companies are proactive about ensuring their products aren't mental health disasters.
I do remain hopeful. I hope it's enough to help users take a break from all the scrolling and unconscious comparisons, at least for a few hours. And I hope these new rollouts can have a longstanding impact on today's youth, not just as it relates to responding to your BFF's meme in record time, but as an avenue for all of us to start actually living life off the screen.