It's way easier to keep your house nice if you try any of these clever things
Cleaning and organizing can even be fun with these genius products.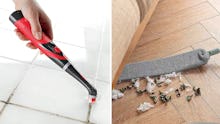 We may receive a portion of sales if you purchase a product through a link in this article.
I don't know how this is possible, but it feels like I'm always cleaning, decluttering, or organizing. The second I finish one project, another one pops up right after it. Despite my best efforts, there's always something. Then, add pets or kids and — forget it — keeping your house looking nice and clean seems impossible. But it doesn't have to be that way.
Whether your coffee table is covered in water stains, your pantry is out-of-this-world cluttered, or your sink never seems to actually get sparkly clean, these products will give you a hand and make keeping your place looking nice so much easier.