This subscription box brings you hard-to-find snacks from local Japanese makers — and its latest box is the perfect Valentine's gift
Sakuraco's 'Valentine's Bliss' box includes teas, cakes, seasonal treats, and home goods in a pretty package.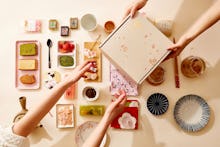 Sakuraco
We may receive a portion of sales if you purchase a product through a link in this article.
If you put aside the cliché expectations and celebrate the way you want, Valentine's Day can actually be one of the most fun holidays. That being said, taste-wise, a lot of the V-day celebratory goods are often pretty mediocre. But if you're looking for treats that won't disappoint, there's Sakuraco, a monthly snack subscription service that delivers an elegant box of authentic Japanese snacks to your door. The brand just unveiled its "Valentine's Bliss" box, and you can get $5 off your first Sakuraco order when you use code VDAY.
What are Sakuraco boxes?
Fast facts:
Curated snack boxes from a small Tokyo-based company
Features a different theme each month
Boxes include a mix of authentic Japanese teas, cakes, traditional sweets (like mochi, manju, and yokan), seasonal treats (like sakura and momiji), home goods, and more.
Items are sourced from local Japanese makers
Available as a single box, as well as 3-, 6-, or 12-month subscriptions
Sakuraco's snack boxes contain a thoughtfully curated arrangement of 20 treats that support local Japanese snack makers in the process. Each month's box has a different theme and snack collection. A box might include dorayaki, a confectionary pancake filled with sweet azuki bean paste, or senbei, a type of savory rice cracker. You'll also get Japanese teas, like sakura tea or hojicha green tea, as well as home goods like yunomi cups or furoshiki, a festive gift-wrapping fabric. To top it off, each box includes a booklet featuring details about the items in your box (including potential allergens) and more insight into Japanese culture.
If you're interested in giving Sakuraco a try, you can choose the one-time option to get the next month's box. There are also three-, six-, and 12-month options that you can order for yourself or gift to a friend — and, like with most subscription models, the boxes are discounted if you purchase more up front. Plus, you'll receive that extra $5 off your first order when you use code VDAY between now and February 28.
What's inside the Sakuraco Valentine's Bliss box?
For its Valentine's Day box, Sakuraco partnered with the Osaka Prefectural Government to curate an assortment from the region known for its convivial social life and top-notch food scene (which ranges from Michelin-starred restaurants to the neon-lit street food paradise of the Dotonbori district). February's box is full of confectionary treats, like chocolate mochi, strawberry dorayaki, and sweet kinako dumplings.
If you don't mind spoilers, you can preview all the items in Sakuraco's Valentine's Day-themed box. Whether you're gifting it to a romantic interest, a friend, or yourself, this treat box is a delightful departure from the usual grocery store finds.
What are reviewers saying about Sakuraco boxes?
"I am not ashamed to say that this ENTIRE box was gone in the single day! And I'm the only one eating it lol! This was a wonderful combination of throwbacks from my childhood and new goodies that I will be tracking down. Yummy, yummy, YUMMY!" — Satomi H.
"I have subscribed to several Japan snack boxes and the variety and quality of this one is far superior at a similar price. I have received items in the December box that were totally new to me and very unique. The tea included was fantastic too!" — Bryan S.
"I ordered this box as a fun way for our family to explore a new culture and it did not disappoint. There were tons of items, tons of different flavors and textures, and we can't wait for the next one!" — Leah T.
"As a Japanese person living abroad, it can be hard to find more traditional, authentic Japanese snacks, but Sakurako really hit the nail on the head. Since New Years is the biggest holiday in Japan, I really felt like I got a taste of Japan during the New Years season. If you'd like to taste some of the flavors of Japan, I would recommend checking out Sakurako!" — Kyoko H.