Just because you're lazy doesn't mean you can't keep your house looking nice — these genius things are proof
Well-rated items that give your home an updated look without all the work.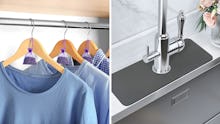 We may receive a portion of sales if you purchase a product through a link in this article.
Decorating the home might seem frivolous at first. As long as you have a comfy bed to sleep in, functioning kitchen appliances, and furniture in every room, little knick-knacks aren't such a pressing issue, right? In reality, though, the details are what make a home feel like it's really yours. That's why Amazon is so convenient. Its inventory is chock-full of literally anything you could ever want, including interior goods.
Still, that doesn't mean you have time to scroll the site all day and compare reviews (though that's certainly a pleasurable pastime). We've rounded up some of the top-rated products that'll make your living spaces more efficient and stylish — no renovations or serious spending required. Read on to discover the best clothing hangers, a hands-free microwave cleaner, and other small but important essentials.