I tested these elevated, everyday wine glasses — & they've completely changed how I drink wine
Bye cheap stemless, there's a better way.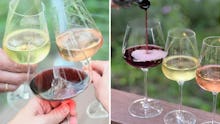 We may receive a portion of sales if you purchase a product through a link in this article.
Having watched all of season two of The Bear in one glorious spree, I was left craving more — and not just of the stellar acting. I wanted more access to that world of fine dining. While Michelin-star reservations are not in my foreseeable future, I decided to bring some of that intention and care into my own kitchen. So, when I heard that chef-loved cookware brand Made In had spent nearly two years perfecting it's newly launched wine glasses, I knew I had to try them.
Over the course of two weeks, I solicited friends and family to help me test-drive Made In's new red and white wine glasses, pouring everything from sparkling whites to robust reds. The TL;DR? These wine glasses have completely changed how I drink wine — and there's no going back to cheap stemless.
The brief backstory
For the uninitiated, Made In is known for its premium cookware often found in top-caliber kitchens, including the likes of Tom Colicchio's. Colicchio, an adviser for the brand, said in a press statement that Made In makes "masterful finished product[s]," and a quick scan of the brand's myriad customer reviews confirms that at-home chefs espouse similar sentiments. Phrases like "outstanding workmanship," "beautifully crafted" and "you can feel the quality" appear regularly.
It's no surprise, then, that Made In co-founder Jake Kalick, approached the rerelease of its wine glasses with an exacting level of detail, sourcing the finest materials (i.e. pure Austrian quartz for the lead-free crystal) and partnering with 11th-generation German manufacturers to create a proprietary glass shape.
First impressions
After unpacking the glasses with care, my first thought was "Damn, these are sexy." Having grown accustomed to cheap, lightweight stemless, these in contrast had some welcome heft, with a satisfying in-hand feel. I also immediately had to see if Kalick's claim that "you can actually hear a great wine glass," rang true. And yes, a few fingernail taps on Made In's glasses produced an elegant bell sound compared to the dull "tink" of my budget stemless.
That said, I did have some concerns whether the tall, delicate-looking stems could withstand my always-overcrowded dishwasher, let alone the 1,500 cycles the stemware was tested for. But, I was quickly impressed by the durability — not only did the glasses come out of the dishwasher fully intact, one glass also survived an accidental drop onto my quartz countertop.
The drinking experience
The White Wine Glass
Made In's new white wine glasses are designed to be universal, in that they're shaped to bring out the nuances of pretty much any varietal, including sparkling ones. To put that to the test, the first wine I poured was bubbly champagne. I was impressed with the way the glass performed like a coupe but with fewer opportunities to spill.
Next up: It was time for a refreshing summer rosé. Handling the glass by its long elegant stem (rather than wrapping my hand around a stemless bowl) meant that the rosé stayed delightfully chilled longer, and I also enjoyed the clean feel of each sip, perhaps attributed to the almost imperceptible rim. A family member testing out the glasses with me noted that the upper part of the bowl felt featherlight compared to the substantial base, giving the impression that it was at once delicate and strong.
The Red Wine Glass
Similar to the white wine glasses, Made In's new red wine glasses feature a universal design to accommodate the full spectrum of red varietals. The red wine glasses have a wider 'decanter-shaped' bowl compared to the whites, making for a more powerful shape that lends itself nicely to sniffing and swirling. The red wine glasses also are gloriously large, holding 25 ounces compared to the white's 16 ounces.
While the red and white wine glasses are perfect for both everyday and entertaining, there's something about the red in particular that makes you want to throw a dinner party to wow your guests. The round, bulbous bowls catch light beautifully and beg for generous pours. And if a wine glass can make you feel glamorous, these were doing it. I found myself gesturing more with the glass in hand. After clinking our glasses together in a cheers, my partner described it as sounding like a "pristine gong."
Final thoughts
Prior to testing the wine glasses, I had stumbled upon a customer review on Made In's site that raved, "I swear my wine tastes better in these beautifully shaped well made wine glasses." And while I was skeptical, I now get totally get it. Even if the under-$30 bottle I poured didn't get noticeably better in the glass, my overall drinking experience did. Sipping felt exquisite, swirling the wine in the bowl felt satisfyingly soothing, and cheersing with others was that much more celebratory. Needless to say, I'm never going back to my old cheap-o stemless wine glasses, and the family and friends that helped me test the glasses were similarly swayed (though the free wine didn't hurt).