I found the perfect sear — and grilling nirvana — with Made In's Carbon Steel Griddle
Use it indoors, outdoors — for breakfast, lunch, and dinner.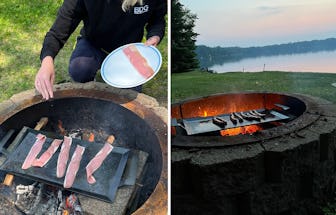 Kate Miller
We may receive a portion of sales if you purchase a product through a link in this article.
I recently came across an Instagram post citing the benefits of regular mental breaks — gardening, cooking, those mindless activities that bring us back to ourselves. While I'm a fan of both the aforementioned, nothing clears my head more than cooking over an open flame. The methodical flipping of burgers or veg, the satisfying sizzle and wafting aromas of the grill — it's a happy place. So, when I heard that chef-loved, direct-to-consumer cookware brand Made In recently launched a new Griddle System — which includes its best-selling Carbon Steel Griddle, plus an adjustable stand and a lid — I had visions of of myself reaching true grill nirvana.
But, before going all-in on the complete Griddle System, I decided I should first test-drive the griddle alone to make sure I'd actually use the thing — at least enough to warrant the steeper price tag for the other accessories. I put the indoor-outdoor griddle to the test for an entire weekend in the Northwoods of Wisconsin, cooking everything from French toast and eggs to blackened halibut and andouille sausage. Here's my honest review — and let's just say I'm already looking to expand my setup.
Initial Thoughts
The Carbon Steel Griddle arrived in a sleek box that included a bag for storing in between uses, as well as a booklet on care. I was immediately struck by how lightweight the griddle felt. Measuring 24 by 10.5 inches, it clocks in at just under 10 pounds. Having grown accustomed to heavy-duty cast iron skillets on my quest to phase out nonstick pans, the carbon steel griddle felt supremely easy to maneuver in comparison.
This was my first foray cooking with carbon steel, and for those similarly new to the material, it's helpful to know that not only is it lighter than cast iron, it also heats up faster. Like cast iron, it's naturally nonstick when seasoned and can withstand extreme temperatures — upwards of 1,200 degrees Fahrenheit in the case of this indestructible griddle. All that's to say, carbon steel is a veritable workhorse for those with a penchant for high-heat cooking (raising my hand here).
Getting Started
Made In's Carbon Steel Griddle comes preseasoned with vegetable oil, which meant that getting up and running involved little more than a rinse with warm water, followed by a proper drying. Even though the griddle can be used on stovetops, grills, and open flame alike, I went straight to the firepit to see what this thing could do. Here, I encountered a snag and saw immediately why the product designers at Made In decided to add the stand that now accompanies the Griddle System. Unable to locate a fire grate, I was forced to rig up a base for the griddle with some cinder blocks. That worked out just fine, albeit not entirely level.
Of course, I could have just scrapped the open flame idea and moved the entire operation inside to the stovetop — the griddle is compatible with gas, electric, and induction.
The Grilling Experience
Breakfast
As a breakfast lover, I knew that the first order of business was to see how well the griddle could handle my favorites: French toast, eggs, and turkey bacon. After getting the fire going, the griddle reached the desire temperature at an impressively fast rate (thank you carbon steel!). I loved how quickly I was able to throw on the the turkey bacon and get it sizzling. And the griddle's cooking surface area is large — it spans two burners when used indoors — so depending on the size of your group, you may be able to cook all your breakfast staples at once. Aside from my rookie mistake of cracking and dropping the eggs at too great a height and then dealing with splatter, the entire cooking experience was fairly seamless. I also am dead serious when I say that the turkey bacon was the best I've ever tasted. Perfectly crispy, with bits of char for enhanced texture.
Dinner
There's nothing quite like cooking over a campfire on an endless summer night, especially when it involves a beautiful filet of fish. Following an ultra-flavorful blackened snapper and dirty rice recipe featured on Made In's website (though with a forced substitution at the seafood counter to halibut), I embarked on my maiden fish griddle. After oiling the cooking surface, the sear went off without a hitch — no stuck fish left tragically behind on the grill in sight. That said, if you're intimidating by cooking the notoriously delicate protein, Made In also has helpful step-by-step instructions on how to grill fish.
Cleaning
In my estimation, when it comes to grilling gear, an apparatus is only as useful as it is easy to clean. Thankfully, Made In's Carbon Steel Griddle is decently easy to care for, in that you mostly just need to let it cool completely before you give it a good wipe down with a paper towel. If there are particularly crusty remnants remaining, you can use steel wool to remove them, followed by a re-seasoning afterwards. (Made In also has a few more easy ways to clean here.) You also need to make sure the griddle is always well-oiled for that all-important seasoning and that it always dries completely to prevent rust. Other than that, it's pretty easy to keep in rotation, and in fact, the more you use it, the more patina will develop over time.
That said, there is one big caveat. Perhaps because I failed to oil the bottom of the griddle before use, but the smoke and flames from the fire did leave it fairly sooty. Of course, a more elaborate cleaning could remedy this issue, but until then, my griddle is relegated to the grill and fire pit. Your mileage may — and probably should — vary here, but I know myself well enough to accept this griddle's outdoor-only fate for the time being.
What Other Shoppers Are Saying
By now it's probably clear that I'm a Carbon Steel Griddle convert, but with a 4.9-star rating on Made In's website, it's also clear I'm not alone. Here are just a few reviews from verified buyers:
"It is the most forgiving cooking surface I've ever owned. Straight out of the box, I caramelized onions, grilled carrots, cooked mushrooms, chicken, and a couple of shrimps. I added coarse salt after it cooled down, scrubbed slightly, and it was looking better than brand new! Really a remarkable product!"
"Simply perfect. Sear, fry, make pancakes; it's all awesome, cleanup seems intimidating, but it's really simple. It's the closest you'll ever get to having a restaurant style flattop in your kitchen.Can't wait to do scallops and steaks on the grill with it."
"I love this product! It fits my gas stove burners perfectly. The handles make it easy to lift. I bought it for my grill but it's great in the house too. It cooks evenly and quickly. Looks good too!"
"It's a perfect companion to my frying pan's which work on my stove as well as my camping stove, and on my grill. I love that it is as good as my cast iron, yet lighter. I love that now that I've seasoned it, it is better than the non-stick grills from before.I highly recommend this."