No, Marie Kondo didn't deceive anyone
The organizational expert admitted she's "given up," and it's the most relatable thing she's ever said.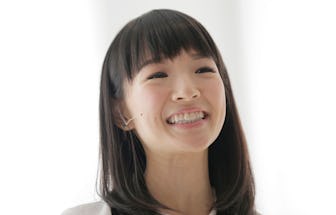 Seth Wenig/AP/Shutterstock
The life-changing magic of giving up
Ah, 2019 — such simpler times. In the pre-quarantine year, we witnessed the polarizing series finale of Game of Thrones, scream-cried to Lizzo's "Truth Hurts," and learned all about the extreme power of tidying up your mess (both physical and virtual) to clear your mind, by way of Marie Kondo's feel-good Netflix series, appropriately titled Tidying Up with Marie Kondo.
Kondo, who first introduced her KonMari Method of editing out the superfluous stuff that does not "spark joy" in her bestseller The Life-Changing Magic of Tidying Up, built an entire career on the idea that a clean, organized home makes pretty much everything better. And now, apparently, she's over it. Well, kind of.
In a media webinar event to promote her latest book, Marie Kondo's Kurashi at Home: How to Organize Your Space and Achieve Your Ideal Life, Kondo recently opened up about refocusing her priorities following the birth of her third child in 2021. It comes down to following "kurashi," a Japanese concept that directly translates to "way of life" and focuses on the small ways you can find joy in everyday things.
"Up until now, I was a professional tidier, so I did my best to keep my home tidy at all times," she said via an interpreter at the webinar, per The Washington Post. "I have kind of given up on that in a good way for me. Now I realize what is important to me is enjoying spending time with my children at home."
This theme of "giving up" is striking a chord with people, as evidenced on Twitter, who are either in support or in opposition of Kondo's decision to take a step back and reassess her priorities. Sure, it's initially a bit shocking, considering Kondo's name is practically synonymous with "organized." But moreso, it's refreshing — and very real. Kondo didn't "betray" or deceive anyone. Kondo is human, like the rest of us, and the fact that she realized it's not realistic to have a perfectly neat home and have enough time to do what she wants to do (in her case, be with her kids) is extremely relatable.
Looking at that bigger picture, Kondo's "giving up" isn't actually that surprising, considering the recent radical rest and quiet quitting movements — both of which stem from the burnout and ongoing demands of capitalism that have only accelerated since the start of the pandemic. In short, "giving up" — which many of us have done in some form or another — as it applies here shouldn't be viewed as negative; it's us protecting our energy, unapologetically, and serves as the ultimate response to the three-plus years of collective trauma we've all been facing.
"I will keep looking inward to make sure I am leading my own kurashi," Kondo added at the media event, referencing life's many unexpected twists and turns. Because at the end of the day, all we can do is be open and keep looking for those small moments in our day that never stop sparking joy.
Readers, I'll be honest: I'm a recovering workaholic. I've had to unlearn that my work — the quality and the quantity — is not tied to my self-worth. It's been a complicated, layered journey that's been made immensely easier and more enjoyable thanks to the bite-sized (and impactful) treats I give myself each day. These include: taking cuddle breaks with my baby niece, making a honey cinnamon latte with extra foam every morning, and completing my multi-step skincare routine every night. I've unknowingly been channeling my inner Marie Kondo, and it's helped my mental health more than I thought it would.