These Next-Gen Grooming Tools Are Designed With Self-Expression In Mind
From super-smooth to fluffy and full, Meridian's body hair trimmers have your covered.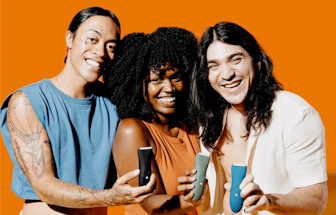 Meridian
We may receive a portion of sales if you purchase a product through a link in this article.
Body hair can be a means of self-expression. Some days, maybe you want lots of body hair. Others? Maybe none. Meridian, a radically inclusive grooming company, fully embraces that ethos, designing its products to appeal to all gender expressions, races, and aesthetic preferences. So if you're looking for an update to the old razors-or-waxing model, consider picking up their headlining product, The Trimmer: A rechargeable body hair trimmer that will help you maintain your favorite body hair aesthetic, whether you like it full and fluffy or short and sleek. It works equally well on thin and fine hair as it does coarse and curly, and it's safe for use anywhere on your body, from beards to underarms.
In addition to The Trimmer, Meridian also offers bundles, an ear and nose trimmer, a soothing spray, and for those looking for even more trimming options, The Trimmer Plus. Meridian's products are gender-neutral and ready to blend seamlessly with your other bathroom accessories. And for anyone who loves a bundle, Meridian offers a handful of kits so you can start your trimming journey fully equipped, and save some cash on essential grooming tools.
The Trimmer fast facts:
Waterproof
Works on all hair types
Can be used anywhere on the face and body
Features an anti-nick blade
Soft-touch design for easy grip
Safe for sensitive skin
Priced below other trimmers
Shop Meridian's gender-inclusive trimmers & grooming solutions
The Trimmer
Available in three colors, Meridian's best-selling Trimmer is packed with features that make it easy to use, and safe for people with sensitive skin. Waterproof, so you can use it in the shower, The Trimmer features a high-quality, anti-nick ceramic blade that reduces the potential for ingrown hairs and irritation, while the ergonomic, soft-touch design feels comfortable in your hand for better control. It comes with two adjustable guide combs, so you can control how close the blade gets to your skin; if you love a no-hair look, you can also choose the bare setting for an ultra-close trim that'll prevent pesky ingrowns while still giving you that clean look you dig. It's safe to use on beards, chests, backs, backsides, armpits, legs, pubic hair — basically anyplace you've got hair. Plus, it can go for a long time; a full charge lasts 90 minutes, so even if you've got a lot of landscaping planned, you'll be covered.
A quarterly subscription option is also available, so you never need to go without replacement blades. Simply choose the "subscribe and save" option at checkout.
One reviewer wrote: "I just used this for first time, (kind of skeptical of my private area) but it worked amazing. 100% safest razor I've ever used on my privates. Left a perfect clean shave, not buttery smooth but almost. I 100% recommend.! No cuts, no burns, no itch. Totally worth every penny."
The Trimmer Plus
Like the original Trimmer, The Trimmer Plus is waterproof, can be used for a full 90 minutes before recharging, and can be used anywhere on your face and body; but this upgraded model has five adjustable settings between 0 and 10 millimeters, so you can really customize your look. It's also equipped with an LED spotlight to highlight the area you're trimming for more precision, plus a convenient charging dock.
One reviewer wrote: "I had been needing a new trimmer for some time now, and while looking I came across Meridian from an ad. After comparing with other types of trimmers from various companies, I decided to go with Meridian seeing as I was only really seeing positive reviews from people (and the choices of colours was *chef's kiss*), and bloody hell I'm so so so happy I chose Meridian. The minute I got The Trimmer Plus and used it, I was hooked. No nicks, no cuts, no accidents whatsoever. It doesn't provide a marble-smooth shave (I didn't expect that anyway) but it's close enough for me. It's my favourite trimmer I've ever had, definitely returning as a customer if they release a new trimmer as some point. I'm in love."
The Up-Here Trimmer
Designed for use on ears and nose, The Up-Here Trimmer is perfect for anyone looking to manage body hair in sensitive facial areas. The stainless steel blade is uniquely designed to capture nose and ear hair at tricky angles, and the handy LED light helps you see exactly where you're trimming. It's lightweight and compact enough to stash in a gym bag (or even a pocket), and it'll run for 30 minutes on a full charge. Like other Meridian trimmers, it's totally waterproof and can be used on wet or dry hair.
One reviewer wrote: "I've used it once since it arrived, and I couldn't be happier. Trims nose and ear hair close to the skin without nicking. Can't beat that!"
Accessories
Once you've found the trimmer that's right for you, Meridian offers a few accessories to make your hair-scaping experience even better. If you find yourself with some post-shave irritation, pick up a bottle of The Spray, a soothing and refreshing mist made with hydrating ingredients like moringa seed extract, green tea leaf extract, and ginkgo; reviewers love that the scent is fresh but not overpowering. If you're planning a trip, or plan to bring your trimmer along with you to the gym, consider adding The Travel Case to your cart — it's designed to hold your trimmer, plus any extra accessories, and the smooth, compact size slots neatly into your bag or drawer. Meridian also offers replacement blades for The Trimmer and The Trimmer Plus (you should change your blades every three to four months for optimum results).
Whether you're a minimalist or a maximalist (in life or in body hair), Meridian's grooming tools are here to help you express yourself, no judgement. It's your body hair — have a little fun with it.