You won't believe all this hypoallergenic jewelry is under $40 — & they're buy 2, get 1 free right now
Hundreds of tarnish-free, minimalist pieces under $40 right this way.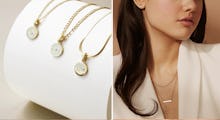 We may receive a portion of sales if you purchase a product through a link in this article.
Shopping often feels like a choice between quality and price. But Canadian brand Mia is changing that proposition up, thanks to its Plating Vapor Deposit technology, an advanced gold-plating technique that eliminates the pollution and toxic chemicals used in traditional plating while still providing you with hypoallergenic jewelry that won't tarnish or leave your skin green. Best of all, the brand offers hundreds of thoughtfully designed, versatile pieces for less than $35.
Every piece in the brand's collection is made using a base of stainless steel, which is hypoallergenic and free of lead, cadmium, and nickel. Their jewelry is available in waterproof stainless steel and most pieces are also available in yellow gold- and rose gold-plated options. The sparkling stones in their collection include cubic zirconia and they also carry shockingly affordable lab-grown diamond pieces starting at $86 — both conflict-free options you can rock with a clear conscience.
For a short time, Mia is offering an even better deal: For almost every three items you add to your cart, the lowest-priced one is free.
The brand also offers free shipping on all orders to the U.S. and Canada with no minimum, and if you sign up for the Mia newsletter, you get 50% off on your birthday too.
With more than 350 items under $35, there's something for every style and budget, from pretty earrings, delicate necklaces, and wallet-friendly chains that won't tarnish to a variety of personalized charms. Scroll on for 10 standout pieces that are all under $40.
1. The necklace that will be your new everyday staple
This double-row necklace will be your new favorite everyday piece. It's 18.5 inches long with a two-inch extender, allowing it to work with the necklines of all your favorite shirts. It's available in yellow gold-plated, rose-gold plated, and stainless steel finishes. It's also available in a bracelet in the same three finishes.
2. A set of stud earrings with a removable chain for 2 different looks
Get two looks in one with the nickel-free Infinity Chain Earrings. The petite bar studs offer a minimalist aesthetic and the lightweight drop chains can be slipped on for a dressier style — voila: You've got pendant earrings. They're available in yellow gold-plated, rose gold-plated, and stainless steel finishes.
3. These dainty zodiac sign charms for giving or keeping
These dainty yellow gold-plated astrologically-inspired charms have a clip-on clasp that can be added to any of their tarnish-free chains or on the open links of the brand's Seville Bracelet. The charms feature your sign's sparkling constellation in cubic zirconia on the front and the rear of the pendant features the sign's symbol.
4. These elegant earrings that pair well with everything from jeans to a cocktail dress
These striking and elegant huggie-style hoop earrings can be dressed up or down and come in three colors: Rose gold-plated, yellow gold-plated, and stainless steel. A single cubic zirconia shines from the center of the earrings and they feature a comfortable clasp with no rod at the back.
5. This pretty pendant necklace with an adjustable chain
Eye-catching and sized to layer or wear on its own, the lightweight Polaris Pendant Necklace features a single strongly set cubic zirconia stone in the center of an etched North Star design. The tag-style pendant hangs on a delicate chain that is adjustable to between 18.5 and 20 inches and it's available in yellow gold-plated and stainless steel.
6. These tapered stud earrings nobody would guess cost less than $35
Six graduated cubic zirconia give these chic tapered stud earrings a ton of shine — and make them look expensive too. Available in yellow gold-plated and stainless steel, the Archie Stud Earrings are sophisticated and polished enough for work but just as pretty paired with a cozy sweater and leggings. Want to give these as a gift? Mia makes tiny metal gift boxes too!
7. This delicate necklace that goes with everything
Available in rose gold-plated, yellow gold-plated, and stainless steel, the delicate Jupiter Pendant Necklace is a piece you'll wear again and again alone or layered with your other favorite pieces. One 2.5-millimeter cubic zirconia stone adorns the surprisingly strong yet fine stainless steel chain of this minimal necklace with a classic style. The length can be adjusted to between 15.5 and 18.5 inches.
8. This classic link bracelet that comes in 3 finishes (or as a necklace)
Celebrate the important bonds in your life with the Spirit Bracelet, which features a stone-encrusted and solid metal link on a strong, fine chain. It's available in rose gold-plated, yellow gold-plated, and stainless steel. Love the design but looking for a necklace? You're in luck: Check out the Spirit Pendant Necklace.
9. A wraparound ring that's great layered or solo
This cleverly designed wraparound ring offers a touch of sparkle in stainless steel, yellow gold-plated, and rose gold-plated finishes. The ring is lightweight yet sturdy with no worries about bending. Not sure what size to buy? Check out their ring size chart to find the perfect fit.
10. This elegant piece with '90s vibes
With an elegant '90s-meets-2023 feel, the Corine Pendant Necklace is available in three finishes: Rose gold-plated yellow gold-plated, and stainless steel. The length is adjustable from 18 to 21 inches.