Contrary to popular belief, millennials are not financially screwed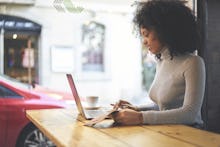 GaudiLab/Shutterstock
When it comes to money, millennials often get a bad rap. Thanks to things like student loans and a struggling economy, plus common misconceptions that 20- and 30-somethings often make poor financial decisions, it can seem like they're pretty much set up to fail. Yet in reality, millennials aren't financially doomed. Fun fact, they'e doing just as well, if not better, than other generations when it comes to saving money and setting themselves up for the future.
In a recent survey by Bank of America of 1,500 people, researchers found that 54% of millennials keep budgets, the same amount as Gen Xers. Fifty-seven percent of millennials, meanwhile, have a savings goal, compared to just 42% of Gen Xers and Baby Boomers. Young people may be frequently associated with poor financial habits, but insight from financial experts proves otherwise.
"This generation has faced many obstacles upon graduating from college" including higher student loan debt and limited employment opportunities, explains consumer savings expert Andrea Woroch. Additionally, "many millennials struggled — or watched their families struggle — through the 2008 recession. As a result, they understand the importance of saving money and spending it on things they value," she adds.
Need more proof that millennials are better at managing money than it seems? Let's dive in.