35 mistakes you don't realize you're making that are aging your body too quickly
Disclaimer: If you're experiencing pain, contact your doctor before incorporating these products into your daily routine.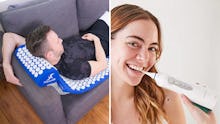 We may receive a portion of sales if you purchase a product through a link in this article.
Sometimes the smallest changes can make the biggest impacts. Swapping out your desk chair with a more comfortable option or even soaking in the tub after a long day can make a world of difference when it comes to how your body feels. But if you aren't sure what changes to make, don't worry: I've identified a variety of mistakes that could make it feel like your body is aging too quickly (along with some solutions, of course).
From soothing acupressure mats to ergonomic computer mice, this list is filled with remedies for nearly any kind of ache or pain that could leave you feeling 10 years older than you actually are. And since each product can be purchased from Amazon, chances are good that you won't have to wait more than two days in order to receive your order. With that in mind, your back has been aching for months. Isn't it time for some soothing heat therapy? Keep scrolling for more.