35 mistakes you're making around the house that cost you money but are actually easy to fix
Easy solutions for under $35.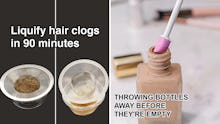 We may receive a portion of sales if you purchase a product through a link in this article.
Sticking to a budget can be difficult. Even if you've been consistently tracking every purchase, sometimes it's the smallest mistakes that quickly add hundreds of dollars to your monthly expenses. Luckily, many of these mistakes have easy fixes that can be purchased (at incredibly budget-friendly prices) from Amazon.
From produce savers to protective furniture leg covers, I've filled this list with all sorts of solutions to the costly mistakes you could be making around the house. And because the name of the game is saving money rather than spending it, I've also made sure that each item you'll find below is available for $35 or less — including that Brita filter for your sink. But if you want to see more you'll just have to keep scrolling.