From tummy troubles to nerves about fireworks, these vet-formulated dog supplements could help
They're designed with sensitive stomachs in mind.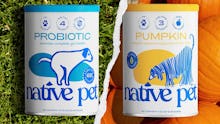 We may receive a portion of sales if you purchase a product through a link in this article.
There are a lot of pet probiotics and supplements on the market, and many of them have a long list of ingredients that might not be necessary for your dog's specific needs or cause further sensitivities. That's why Native Pet worked with a Board-certified vet nutritionist to create minimally processed supplements made with whole-food ingredients that are specifically formulated to support different concerns — from improving digestion and supporting mobility to providing allergy relief and restoring a healthy, shiny coat.
What's in Native Pet supplements?
Native Pet's line of probiotic powders, calming chews, and other supplements are researched and formulated in-house by vets and made with human-grade whole foods such as wild-caught salmon and grass-fed beef. According to Native Pet, most supplements on the market include an average of 20-plus inactive ingredients, so the brand's goal is to use no more than five per product. That means they're less likely to contain ingredients that may cause sensitivities for your pet, such as gums and resins, coating agents, and starches.
The supplements come in the form of powders, air-dried chews, and oils — scroll on to check out some of the options.
1. The daily probiotic to support gut health & reduce upset stomachs
2. The calming chews for travel, fireworks & other stressful situations
3. The pumpkin powder for digestive support
4. The omega oil for healthy skin & joints
What dog owners are saying
Native Pet supplements have garnered lots of positive reviews from dog owners on Amazon. Here's the scoop:
On the probiotic powder: "Adding this to my dog's meals helped decrease the frequency of upset tummy and her poop is perfect. This is my second can and will now keep this as a staple for her meals." — Carla Gee
On the calming chews: "Our dog loves these chews and they are perfect for long car rides or just for winding down at night! I can really tell a difference in the nights she has 1-2 calm chews and the nights she does not. Highly recommend for any anxious pups out there!" — Christi
On the pumpkin powder: "My dog was having runny stools and 'butt scoot' issues. We give him one scoop of this a day and the problems have resolved themselves. Plus , he loves the flavor and it increases his fluid intake because we add a 1/4 water to his food with this and he gobbles it up!" — Christina