My water-averse dog tried this life jacket — & it made him actually want to play in the water
Finally, a beach day my dog enjoyed.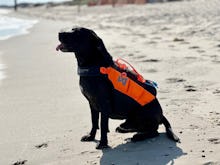 We may receive a portion of sales if you purchase a product through a link in this article.
When you're splashing at the beach, relaxing on the boat, or chilling by the lake, some dogs want to splash right alongside you. My dog, however, is not usually fond of the water, so I was a little skeptical when first trying Non-Stop Dogwear's doggie life jacket to see how he'd respond — but surprisingly, with it on, he swam without hesitation.
First impression
Upon receiving the life jacket, I could tell it was made a little differently than some others I had seen. And from further research into the jacket, I learned the brand's testing had shown that life jackets with flotation panels on the back did not provide extra buoyancy. So, Non-stop Dogwear designed flotation panels on the sides to help keeps pups afloat and improve stability in the process. The panels are also segmented into three sections, so it's less likely to get in the way of your dog's movement.
The jacket is lightweight and the quick-drying mesh material on the back helps to improve air and water flow.
Other notable features:
Padded front strap
A handle for pulling your dog out of the water or guiding your dog on land
Three leash attachment loops (one on the top and one on each side)
A convenient pocket on the back to stash small items such as poop bags
Available in 5 sizes
Testing the jacket on my pup
When putting this jacket on my dog, I was surprised at how easy it was to secure. Flaps on the sides of the jacket wrap down around your dog's chest and secure in place with hook and loop closures. Then, two adjustable buckles on the side ensure a secure and customizable fit. It took less than 20 seconds.
To test it out, we headed to the beach. My dog, who is usually pretty fearful of the water, dove straight in without hesitation. The jacket seemed to give him an extra dose of confidence and did a great job of keeping him up at the surface of the water, despite some occasional rough waves. It also didn't restrict his movement. In fact, he was running up and down the shore and dodging waves.
Sizing
I recommend sizing up if you're in between sizes or your pup's measurements fall in two size parameters. My dog weighs 50 pounds and has a 28-inch chest measurement, so according to the size guide, sizes 5 and 6 should both fit. However, in size 5, I could only use the buckles to secure the vest, as the hook and loop strips didn't overlap.
Final verdict
While the Protector jacket is a little more expensive than some others on the market, I think it's worth it — it felt durable and well-designed. Plus, it seemed to give my typically water-averse dog comfort and confidence while in the water, which is a definite win.
The brand also makes bungee leashes, raincoats, and safety gear. One product I'm particularly interested in is the CaniX Belt which wraps around your waist and connects to your dog's leash for hands-free control — great for runners.