obé Fitness' At-Home Workouts Are Less Than $10/Month Right Now — & I'm Obsessed
The at-home workout program I won't shut up about.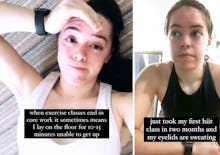 We may receive a portion of sales if you purchase a product through a link in this article.
There's almost nothing as synonymous with the new year as a new fitness routine, but it can be an exhausting time. Gyms are crowded, resolutions are still tightly held, and if I'm honest, it can feel like one big anxiety-inducing item on my to-do list. I'm thankful that the last few years have introduced me to at-home workouts, so I can move my body without fighting for machines at busy gyms, feeling stressed about getting back into shape, or spending a lot of money. And after trying a lot of at-home workouts, I feel like I've finally found the best program: Let me introduce you to obé Fitness. I've been taking exercise classes with obé for years, and they're currently having their best sale that I've ever seen — an annual membership for just $99, or $8.25 a month.
A few years ago, I signed up for obé Fitness looking to find a structured and fun way to exercise without having to leave my home. I quickly fell in love with the platform, which offers a combination of live and on-demand classes in so many different disciplines.
What fitness classes can you take on obé?
They offer every kind of class you could want, from yoga to dance to weight lifting — with around 10 live classes a day. I am a huge fan of their classic 28-minute class format, which is the perfect amount of time for me to sweat without feeling overextended. But they have since expanded their programs to include classes ranging from 5-minute burnouts to 60-minute sessions.
Beyond the diversity in class types and lengths, they also have a huge range in the difficulty level of their classes and how much equipment you need. It's really easy to find a class that matches your fitness level and the equipment you have, and I really love that when I'm traveling or on vacation and want to squeeze in a quick workout, obé is customizable to the equipment I have with me. On more than one occasion I've taken a no-equipment class while on a vacation. It's made me way more consistent with my workouts.
After having tried a lot of at-home workout platforms, I can say it's rare to find one with so many live offerings. They offer classes all seven days of the week, and I regularly attend a standing Saturday morning strength class where we toss around dumbbells in classes focused on total body strength.
What about the obé community?
One of my favorite parts of obé has nothing to do with the specifics of the class I'm taking, though. The community of people who use the platform is really great, and instructors often read off names of the members present in class to offer encouragement and support. I've also found that the instructors work really hard to meet you where you are, offering modifications, instructions about form, and demonstrations of every move. I can truly say that lifting weights during obé classes has improved my form in my own personal strength training.
After a few months on the platform, I convinced a few of my friends to join as well, which was especially fun because with obé you can organize a group workout or workout party where you can live stream a class together with your friends. While I often prefer to work out on my own, my sister and I have taken classes together and it's really fun to be able to chat during our water breaks.
How much does obé cost?
But, I've buried the lead. The absolute best part about this platform is how affordable it is. You won't need to pay for a $2,000 bike or fork over a huge registration fee to join. Their monthly membership is normally $27 per month, but you can also get a yearly membership for just $99 during the new year (or just $8.25 per month). Having tried out more exercise classes than I could count (in person and online), I can say this is an incredible value that I really couldn't recommend any more highly.
I love this platform so much, I've had to cancel my gym membership. These classes are more affordable, easier to fit into my schedule, and still offer incredible workouts that never feel boring or stale. After over two years of using obé, I doubt I'll ever go back to expensive gyms or in-person workout classes. Their New Year's sale is happening now and, trust me, you're getting an incredible deal while it lasts.