People on a budget say they wish they'd gotten these clever money-saving things sooner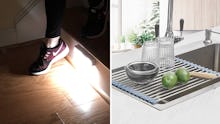 Amazon
We may receive a portion of sales if you purchase a product through a link in this article.
Coming up with a budget is never a bad idea; the only trick is making sure that you stick to it. Reducing your electricity usage, avoiding take-out meals, and opting for reusable products over disposables are some of the ways you can manage to cut down on monthly expenses. But if you're still struggling? Not a problem, as I've put together this list of helpful items that people on a budget say they wish they'd gotten sooner.
From meat thermometers to clothes drying racks, this list is absolutely chock-full of all sorts of products that can help you spend less money. Frankly, I'm not sure how I was able to function without at least a few of these — especially when it comes to that meat thermometer. But if you want to see more, you'll just have to keep scrolling.