People with well-behaved cats (who used to be naughty) swear by these genius things
A kinder, gentler kitty awaits you.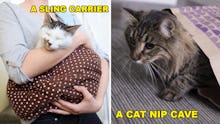 Amazon
We may receive a portion of sales if you purchase a product through a link in this article.
Cats are the sweetest and snuggliest of companions — but they can be real divas, too. You're not alone if you're struggling to curb your kitty's unwanted behavior; many cat owners have trodden the shredded-couch-lined path ahead of you. Thankfully you can benefit from their experience and recommendations. There are many items out there that can help you sweeten the kitty — that is, take a naughty cat and lovingly put them back on their best behavior.
Everything on this list is the cat's pajamas, from delicious treats for paws-itive reinforcement to herb-infused toys that improve catitude to grooming products that make them feel paws-ome.