This clever customizable cat tree might be the only one you'll ever need
A stylish cat toy that suits your space.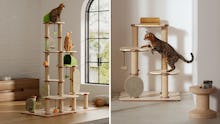 We may receive a portion of sales if you purchase a product through a link in this article.
If you have a cat, you probably know how hard it can be to find an aesthetically pleasing scratching tree that fits your space and keeps kitty entertained. Enter, the PETLIBRO INFINITY cat tree with a modular design that lets you build a customized toy to suit your space and your cat's changing scratching preferences — and it can be redesigned as your kitten grows into an adult, you become a multi-cat household, or you move to a new home.
The design
The INFINITY cat tree comes in three different base kits, ranging from small to large to meet the needs of kittens, adult cats, senior kitties, and multi-cat homes. Every base kit comes with at least one cat bed, scratching board, and toy. All of the posts are wrapped in a durable and scratch-worthy sisal material (so your cat can shred to their heart's content), and each platform can hold up to 35 pounds at a time.
But no matter which you choose, its modular design allows you to reconfigure the components as your cat family and space changes. Plus, unlike many cat trees on the market, the cat tree can sit flush against a wall or straddle two corners to take up less floor room.
It's all pretty easy to put together, too. The posts twist together to connect, and the platforms secure into place with easy sliding clasps — no tools needed. According to the brand, you can fully assemble a cat tree in just 10 minutes, and you can get $20 off with code PLCT20.
The styles
The Loft cat tree is great for kittens or senior cats who may prefer a smaller, two-tiered structure that's easier to navigate and doesn't need to jump and climb too much.
What's included: 4 x sisal posts, 2 x platforms, 1 x base, 1 x cat bed, 1 x scratching board, 1 x toy | Height: 29.1 inches
The Villa comes with three platforms and two bases. Place the bases one in front of the other for a square shape or line them up next to each other for an elongated design along walls or furniture.
What's included: 9 x sisal posts, 3 x platforms, 2 x bases, 1 x cat bed, 1 x scratching board, 1 x toy | Height: 40.9 inches
The Castle is the largest base kit and features a four-tier design that reaches almost 5 feet tall. Like The Villa, the bases can be arranged in a square or side by side, but this one comes with a cave-like cat bed, two scratchers, and two hanging toys.
What's included: 13 x sisal posts, 4 x platforms, 2 x bases, 1 x cat bed, 2 scratching boards, 2 x toys | Height: 58.7 inches
Save $20 on any INFINITY cat tree using promo code PLCT20.