I tried this bidet attachment for a week and there's no going back — and I highly recommend it
Heated seat, check. Dry mode, check.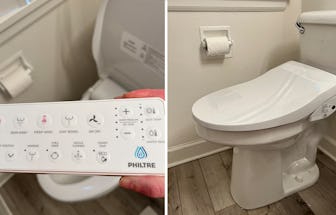 Kate Miller
We may receive a portion of sales if you purchase a product through a link in this article.
A few years ago, a Japanese toilet went viral for being the most luxurious loo in the world. It cost $10,000 and featured a remote control, a heated seat, and customizable bidet spray modes. Well, now you can enjoy a lot of those same features for a fraction of the cost thanks to Philtre's electric bidet attachment. I tried it out for a week and honestly, I'm never going back to life without one. Here's everything you need to know about the simple toilet upgrade that will make you feel like you're truly living the good life — at least while sitting on your porcelain throne.
Fast Facts
Brand: Philtre, a California-based personal hygiene company that manufactures its products at a Samsung smart factory in South Korea
Bidet modes: rear wash, front wash, "easy bowel" mode for constipation, massage mode (oscillates between power and gentle washes), air dry, child mode, "eco" power save mode, and an automatic nozzle cleaning mode (a self-cleaning process)
Custom controls: adjust the seat temperature, the water pressure and temperature, and the nozzle position
Components: remote control, soft-close seat and lid, seat sensor to minimize power usage, stainless steel nozzle, side panel controls, power plug
Best for: anyone looking for a toilet or bidet upgrade
Requirements: must have a one-piece toilet with access to a nearby power outlet
Installation time: approximately 30 minutes
First, why bidets & why this one?
If the toilet paper shortage of 2020 taught us anything, it's that our reliance on TP warranted some rethinking. It's also become increasingly clear just how much of a toll toilet paper manufacturing has on the environment — it takes some 15 million trees to make the 36 billion rolls of toilet paper Americans use each year. Add in the fact that TP is also an ongoing personal expense that's even more pronounced now with inflation, and you have a pretty compelling case for the bidet. But while bidet sales soared during the pandemic, not everyone jumped on the bidet bandwagon. (And even if you did, maybe the model you tried didn't wow as promised.)
That's where the Philtre electric bidet attachment comes in. It replaces your regular toilet seat and comes with a remote control to adjust the water temperature, pressure, and angle to your liking, making for a truly luxurious bathroom experience. And did I mention that the seat is heated?
My experience with the Philtre electric bidet attachment
Background
Before getting into all the reasons why I've fallen for the Philtre bidet attachment, it's worth noting my overall bidet journey. Like many, I tried a budget model during the pandemic when a bidet seemed like a practical choice. But I must admit, I wasn't sold — the spray of water always felt somewhat jarring. So, when the opportunity came for me to try the Philtre model — a more upscale bidet with far more bells and whistles — my curiosity was piqued. Would this turn me into a bonafide bidet person?
Installation
The bidet attachment arrived with all the parts and hardware necessary for it to immediately replace my existing toilet seat, including a low-profile white seat with a curved, soft-close cover. After realizing that this bidet required a power outlet, I initially panicked because my plug wasn't within reach. The crisis was averted with a simple extension cord, but know that the included cord measures 47 inches.
It was fairly easy to follow the installation instructions; I relied on the helpful DIY video on the Amazon product page but the included printed instructions also have QR code that you can scan from your phone for videos. All said and done, installation took about 30 minutes, and it would have taken less without my cord issue blip. While the kit has you covered in terms of bolts, brackets, and valves, it's helpful to have a self-adjusting pliers and a screwdriver on-hand to remove your old toilet seat.
First Impressions
I was impressed with how solidly the seat felt and how seamlessly the design integrated with my existing toilet. I also appreciated the simplicity of the mountable remote control, though it did take some trial and error to figure out my preferred settings. I played around with water pressure and temperature and between the different rinse styles. I'm pleased to report that any complaints I had with my previous bidet (namely it's aggressive spray style) have been solved with Philtre's customizable rinse modes.
A week in, I'm still trying to figure out how long the heated seat function stays on. That said, the heated seat is one of the main attractions. I once read that you know you've made it if you have a heated toilet seat, and I must admit, it's now a luxury I can't live without.
I initially thought I'd love the air dry function, but since the brand recommends that you use toilet paper first to get rid of excess water, I often find myself just skipping the dry mode altogether. Your mileage may vary, and if you find yourself loving the feature, know that the dryer has an auto-off after 3 minutes.
While I've only had the Philtre bidet up and running for a week, I can say that there's no going back to life without it. It's a simple bathroom upgrade with a noticeable impact. It's official — I'm a bidet person.
What other reviewers are saying
While there aren't a ton of reviews on Amazon, it's clear that Philtre is doing something right. Here are just a few of the standout reviews for the electric bidet attachement.
"As a previous owner of bidets this PHILTRE is not only the best one I've owned and I have used the more expensive ones plus $500 the PHILTRE will stand up to them. All the function right on the remote control the whole family can use it. Believe me once you try out a great bidet like the PHILTRE you will not go back to paper. [...] It was installed in about 30 minutes as the instruction are easy to understand and leads you in the correct procedures. Again the PHILTRE amazed me [...]. I do highly recommend you purchase one." - Richard Thomason
"As a 10+ years of multiple electronic bidets and washlets use, I can be picky in selecting one. I wanted a remote controlled bidet so it can be mounted on the cabinet. Remote is a full function and remembers my settings the next time I sit down. I also wanted the one with a seat sensor and instant heater so that the electronic bill is not affected much. And most importantly, a must was all stainless nozzle that doesn't melt down or become infested like plastic ones do. This bidet checked out all my requirements and so far the quality seems to exceed Toto I have been using for last 5 years on my other bathroom." - Yun Pyo
"We love all the functions, the seat warmer is on all the time and this is a plus no more cold seats. It has different setting on how strong you want the water to come out, I leave it in the child setting which is light. Overall this is +5 rating" - Haze