I tried this pecan milk creamer and it's so good, it's replacing my beloved oat milk in my coffee
PKN's new nut milk creamer brings the buttery flavor of pecan pie to your coffee.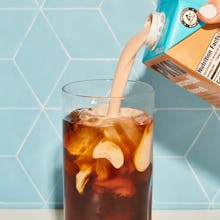 PKN
We may receive a portion of sales if you purchase a product through a link in this article.
When it comes to hot coffee, I'm a drink-it-black gal. But when iced coffee season is upon us, things are different. Give me your flavored, delicious creamers in all the nut milk options. With the weather slowly warming up, I was particularly interested to hear about PKN. In addition to its regular pecan milks, the brand just dropped a new line of creamers: the Original Pecanmilk Creamer and the Sweet Vanilla Pecanmilk Creamer. After seeing PKN describe them as having a "buttery, nutty taste that brings back memories of pecan pie," I had to give them a try.
What's the story behind PKN?
Laura Shenkar founded the company Lifestock while working to preserve freshwater ecosystems in Central Texas. During that time, she learned about the sustainability potential of pecan production. For instance, because the pecan is the only tree nut native to the United States, it's more resilient to droughts and flooding. Shenkar began to work closely with local farmers in places like San Saba, Texas (known as the "Pecan Capital of the World") to develop the nut milk product that would become PKN.
Since pecans are grown here in the United States, the carbon footprint of delivery and distribution is lower than milk made from nuts grown elsewhere. And beyond the sustainability impact, the PKN's products are also gluten-free, vegan, keto-friendly, and of course, dairy-free.
So, how do they taste?
I was stoked to receive sample cartons of both the Original Pecanmilk Creamer and the Sweet Vanilla Pecanmilk Creamer. While I'm not making the seasonal switch to cold brew just yet, I decided to try it in my hot coffee. I was immediately impressed that the Original Creamer did, in fact, have that buttery taste with a subtly sweet, rich flavor. The sweetness is very minimal here, and it has a touch of savoriness. Best of all, there was no weird aftertaste, which is something that deters me from almond milk.
Both creamers are made without added sugar, though the Sweet Vanilla variety is sweetened with stevia and monk fruit. Admittedly, this one wasn't up my alley in the same way as the first one, but this is mostly because I just don't enjoy the taste of stevia. But if you don't mind that, the vanilla — in addition to the warm nuttiness of the pecan — will make for a nice dessert-like option for your coffee or smoothie.
Overall, I'm going to keep drinking PKN's Original Pecanmilk Creamer; I would even replace my beloved oat milk with it in my cold brew. As a Texas gal myself, I grew up with neighbors and family members bestowing giant bags of pecans on us each fall that we would use for snacking and pastry-making. To have that nostalgic taste in my daily coffee is, like the creamer itself, a sweet, woodsy treat.