Prince Harry is the new face of psychedelic mental health treatment
The Duke of Sussex shared how the drugs helped him heal in a way nothing else did.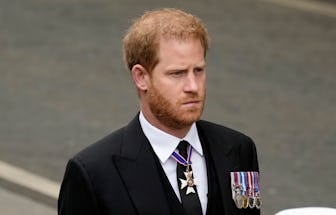 Christopher Furlong/Getty Images Entertainment/Getty Images
Prince Harry's memoir, Spare, isn't even officially out yet — but thanks to an accidental early release and a handful of promotional interviews, we know for certain that the Duke of Sussex is not holding back. The book, officially out on Tuesday, Jan. 10, is packed with an impressive amount of tabloid fodder that adds color to key moments — including new details surrounding his controversial Nazi costume, a physical brawl with Prince William over Meghan Markle, his relationship with stepmom Camila Bowles, and his use of psychedelics as a therapy treatment.
In a 60 Minutes interview with host Anderson Cooper, the Duke of Sussex shared that he initially resorted to alcohol, weed, and cocaine to help numb the feelings of frustration and blame he felt toward the British press for playing a part in the untimely death of his mother, Princess Diana. "There was this weight on my chest that I felt for so many years that I was never able to cry," he said. "I was constantly trying to find a way to cry, but — in even sitting on my sofa and going over as many memories as I could muster up about my mum. And sometimes I watched videos [of her] online."
To work through his childhood trauma, Prince Harry started going to therapy seven years ago and supplemented this new phase in his journey with a modern-day approach to healing. During the 60 Minutes interview, the royal divulged details about using drugs like ayahuasca, psilocybin, and mushrooms to help him cope with his grief: "For me, they cleared the windscreen, the windshield, the misery of loss," he told Cooper. "They cleared away this idea that I had in my head that … I needed to cry to prove to my mother that I missed her. When in fact, all she wanted was for me to be happy." In his book, Prince Harry also wrote about how psychedelics helped him "redefine" reality and see "the truth," Vice reported, citing a Spanish-language version of Spare that was accidentally released early.
Taking psychedelics goes beyond talking to toilets. Early studies have shown the benefits psychedelics, specifically psilocybin — the compound that gives shrooms their psychedelic qualities — have on mental health. A small but important 2016 study published in the Journal of Psychopharmacology found that psilocybin-assisted therapy sessions improved mood and reduced anxiety in 80% of people with advanced-stage cancer six months after the treatment. Another recent study by the Centre for Psychedelic Research at Imperial College London and the University of California San Francisco found that psilocybin was more effective in treating depression than traditional medication, because it rewired the brain and interrupted neurological patterns that exacerbated depression.
Despite Prince Harry's positive experience, the father of two does urge others to be responsible when introducing psychedelics. "I would never recommend people to do this recreationally," he said in his 60 Minutes interview. "But doing it with the right people, if you are suffering from a huge amount of loss, grief or trauma, then these things have a way of working as a medicine."