50 products under $30 that make your home so much nicer
From minimalist vases to easy-to-install puck lights, an upgraded space is coming your way.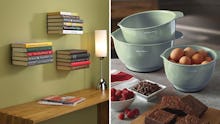 We may receive a portion of sales if you purchase a product through a link in this article.
There's no place like home. Now, if only saying that out loud and tapping your heels together could magically upgrade your living space. But there's no need to wait for a good witch to float down from the sky and grant all your home improvement needs — I've compiled a list of neat products that will make your home so much nicer, and even better, they're all under $30.
From kitchen to bathroom to bedroom — and everywhere in between — there's a product on this list for each room in your home.