Quiet Mornings blends coffee, meditation, and art inside the Geffen Contemporary at MOCA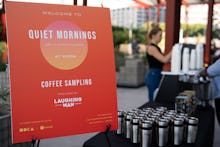 Photo by Suzanne Strong.
If you didn't know, it'd be hard to guess that the Geffen Contemporary at MOCA used to be a police car warehouse. Walking into the cavernous building from the attached courtyard, you are greeted with huge exposed beams and clean white walls that run the majority of a long room. The museum's bookstore occupies a small front area of the space. On this day, much of the floor was covered in square meditation cushions in neutral colors. "Untitled" by Los Angeles artist Laura Owens was projected behind a small stage.
A man in jeans and a flannel shirt, half-opened, revealing a logo t-shirt walked in and sat on one of the square mats, carefully taking off his shoes. He placed them in front of him as others filled in—old and young, dressed in a range of styles and fabrics, all with inquisitive looks on their faces.
While it usually would be seen as a faux pas to take off your shoes at a museum, this Saturday morning was far from typical for MOCA Geffen, which sits nestled between Little Tokyo and the growing Arts District on a shady section of Centra Avenue. After a stream of similar events in the past, the folks at Flavorpill teamed up with philanthropic coffee makers Laughing Man® Coffee this Saturday morning to present a special edition of their event series "Quiet Mornings at the Geffen Contemporary at MOCA."
For this installment of Quiet Mornings, Flavorpill paired a guided meditation session from life coach, motivational speaker, yoga:meditation teacher, and SoulFeed podcast host Shannon Algeo with coffee from sponsor Laughing Man® Coffee, and presented an interesting theory—opening up your mind with meditation before viewing art will make you even more open to its message, allowing a deeper connection with the artist. Algeo, who was dressed in neutral colors and loose, flowing attire, addressed the crowd with the experience of a seasoned speaker. Complimentary essential oils in two varieties—Balance and Purity—were carefully placed on each seat.
There were several Laughing Man® Coffee stations set up outside in the MOCA Geffen courtyard for tasting; complimentary coffee tumblers were given out as well. Four varieties of coffee were available, spanning a range of roasts. Laughing Man® Coffee, which also sports two storefront locations in New York, was founded in 2011 and has been making efforts to give greater thought to their own footprint. Their K-Cup® Pods all feature recyclable packaging. (And if you don't have a Keurig® coffee maker to brew pods, their Columbia Hulia, Hugh's Blend®, and Dukale's Blend® are available as ground bagged coffee as well).
Even more impressive are the philanthropic efforts of the Laughing Man Foundation, which receives a portion of every purchase and supports coffee farming communities around the world. In 2018, they assisted in a home improvement program that saw many residents of the Huila, Columbia getting long-overdue upgrades to their housing.
The event is one way MOCA Geffen has been trying to extend its usefulness in the lives of its patrons. Sarah Stifler, MOCA Geffen's Chief Communications Officer described Quiet Mornings as a way for MOCA Geffen to provide a space for people to think about art in a different way. "Museums are often places for people to contemplate the work in the galleries and this is extending that a little bit deeper inside," Stifler said. "Museums are increasingly broad cultural venues and to be able to offer meditation on a Saturday morning is just a really pleasant way to start the weekend and engage a broader community."
MOCA Geffen's location fills a neat niche in the Los Angeles art world, as its collection is diverse yet carefully curated. There are works from contemporary LA-based artists–like Barbara Kruger whose 'Untitled (Questions)' adorns one gigantic exterior wall–to veterans like Roy Lichtenstein and Mark Rothko.
While it's clearly possible to find other meditation groups in Los Angeles, the museum setting drew out a diverse crowd; and yet a communal sentiment was definitely present among the guests, sitting together calmly and tranquilly, their bodies breathing in syncopation. It's not hard to see how the act of meditation, which includes bringing awareness to every appendage, from the fingers to the toes, can also act as a conduit to opening up the heart and the mind.
Algeo described his own journey with meditation and its intended effects, his voice smooth and mellifluous over the PA. "Opening up for meditation heightens our senses, which then opens us up to further openness when viewing art. Heightened awareness; heightened sense of today and now," Algeo said in soothing tones. Meditation began with each guest rubbing an essential oil on their palms, followed by a collective series of deep inhales and exhales. The room vibrated with a deep calm.
"Thank you to you," Shannon said as he closed out the session. His enthusiasm set forth a ripple for the weekend, as many applauded and stood slowly. "Meditation is worth clapping for!" Shannon said as he encouraged the audience to go find their own personal calm inside the exhibit, a stoic projection slowly undulating on a screen behind him.
As the group gently arose from the meditation session, many lingered to chat with their neighbors. Some took several minutes before putting their shoes back on, letting the ambient music that filled the hall slowly wake them. There was still art to see.
This article was sponsored by Laughing Man® Coffee.