Quip is having a major sale for Easter — Here's what you don't want to miss
Quip, the maker of the affordable electric toothbrush, is having a big sale now through April 10.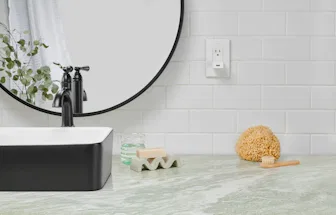 We may receive a portion of sales if you purchase a product through a link in this article.
Quip, the buzzy dental care brand that's received high marks for its affordable electric toothbrushes, is celebrating spring with a massive sale. From now through April 10, you can snag some deals for your and your family's Easter baskets in the form of bundles that feature their electric brushes, refillable floss picks, and anticavity toothpaste.
After consuming all the chocolate egg-shaped candy, you'll be able to keep your dental health in check — and that of your family and friends, too. The way the sale works is, well, as easy as one, two, three. When you buy one item or bundle, you'll save 20% on your purchase. Buy two items and save 25%, and save 30% if you buy three items.
The best deals from Quip's spring sale
Quip's star is their toothbrush, which has received accolades for combining electric toothbrush technology with an attractive, streamlined design reminiscent of a sleek Apple product. It's also a slightly more affordable alternative to a standard electric toothbrush — and has most of the perks: a two-minute timer to ensure you're brushing long enough, gentle sonic vibrations, and a tongue scrub on the back.
The brand also has a suite of products to add to the toothbrush that will help you take better care of your teeth — products like a refillable floss pick or mouthwash. (Though, worth noting, the water flosser, brush heads, toothpaste, and refills are excluded from the offer.) Below are some of Quip's best-selling bundles that get you the whole dental hygiene package.
The essentials set
For a set that has the essentials, the Perfect Pick Routine is it. Coming with Quip's electric toothbrush and cover — along with a refillable floss pick and mint anticavity toothpaste — this bundle is here to help improve your toothbrushing game. The brand's sets are pretty customizable, too. Choose from four metallic finishes and two plastic finishes. Plus, if you sign up for the refill plan, you'll get a new brush head, battery, floss pick refill, and toothpaste every three months.
The bells-and-whistles set
The Custom Bundle has a few more bells and whistles than the above bundle. In addition to the electric toothbrush and cover, mint anticavity toothpaste, and refillable floss string, you'll also receive a refillable gum dispenser that contains the brand's mint gum that helps prevent cavities and freshen breath. And similar to the above set, when you subscribe for deliveries, you'll get a new brush head and battery every three months, along with floss, gum, and toothpaste refills.
The set for kids
Kids can be tough customers when it comes to dental hygiene, but this Kids Custom Bundle might make them feel a little more excited about teethbrushing time. Available in four fun, bright colors, this set for kids ages 3+ comes with an electric toothbrush and cover, watermelon-flavored anticavity toothpaste, and refillable floss string. Quip recommends adult supervision for kids under 8 years old.