Random sh*t on Amazon that's so cheap & clever you'll wish you had it sooner
Better late than never, right?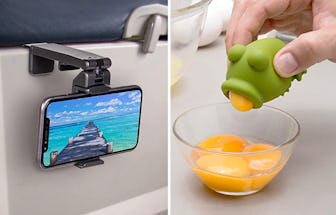 Amazon
We may receive a portion of sales if you purchase a product through a link in this article.
If you're scanning Amazon in your free time — with no particular items on your shopping list — you might come across some random stuff. I'm talking about the products that cause you to stop scrolling for a minute because you're staring at the descriptions in bewilderment and thinking, "Why didn't I buy these already?" You know, the clever things that stand out.
Luckily for everybody reading this, I've put together a list of those kinds of products, and they're incredibly cheap. From fruit-infuser water bottles to Bluetooth keyboards, I've made sure to include a little something for everyone.
But if you want to see more? Then you'll just have to keep scrolling.