Realtors say these things make your home look cheap (& here's how to easily fix them)
Solutions for common mistakes.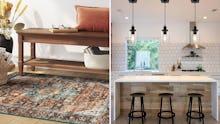 Amazon
We may receive a portion of sales if you purchase a product through a link in this article.
Outside of work, your home is where you likely spend the most amount of time. It's where you cook delicious meals, chill on the couch with a good book, and simply relax — so it's no surprise that you want to make it look as nice as possible. There are tons of obvious ways to make your home look good — but when it comes to identifying the things that are making it look cheap, the experts can help.
Luckily, I've reached out to a handful of realtors who were more than happy to share all the things that might be making your home look cheap, as well as how to easily fix each one. From cluttered entryways to outdated tablecloths, there's a little something in here that can benefit every home — even if yours is the very definition of "stylish."
Keep scrolling for more.